Tree lightings, street parades, wine country vines covered in twinkling lights… yes, the holidays have arrived in Loudoun. Add in holiday markets and festive events, there's no shortage of fun in Loudoun.
Here we select some not-to-miss seasonal highlights.
Christmas in Middleburg
Picture the scene: dozens of scarlet-jacketed riders and their foxhounds, vintage horse-drawn carriages, and a 1.5-mile-long procession of drummers, bagpipers, bikers and more - welcome to the annual Christmas in Middleburg parade. While the parade takes place the first Saturday of December, celebrations actually start the night before (December 2), with the 5 p.m. tree lighting ceremony and carol singing in the postcard perfect downtown. It's not the only holiday fun in Middleburg. Starting December 4, and continuing every weekend until Christmas Eve, horse-drawn carriages take guests through the town and there's free hot cocoa at beloved Scruffy's Ice Cream Parlor. December 10 meanwhile is the Dickens of a Dog Show and December 17 Dickens Village includes experiences that transport visitors back to the era of "A Christmas Carol," with carol singing and theatre.
Leesburg Holidays
Historic downtown Leesburg turns into a glittering wonderland come the holidays, with a giant Christmas tree lighting in Town Square and historic streetlamps adorned with red ribbons and greenery. Take the kids to the tree lighting ceremony on December 2. December 3 and 4 attend the annual Leesburg Holiday Fine Arts & Crafts Show at Ida Lee Park Recreation Center where more than 90 local artists, artisans and crafters display and sell everything from candles, stained glass and wood carvings to jewelry and table linens - the perfect place to buy gifts. December 10, meanwhile, is the Annual Christmas and Holiday Parade where Santa and friends are ushered down King Street, through historic downtown Leesburg. The parade begins at Ida Lee at 6 p.m. and ends at Fairfax Street. Keep the merriment going by visiting Tally Ho for the Jingle Jam concert on December 9 and 10.
Lucketts Holiday Open House
Over in Lucketts, the famous Old Lucketts Store is hosting its annual Holiday Open House Thursdays through Sundays until December 11. Browse or purchase antiques, vintage clothing and accessories from the main store or purchase a ticket online to the nearby Holiday Design House – a festively decorated 19th Century farmhouse in which all décor and items, from homeware to ornaments to furniture, are for sale. 
Hillsboro's Holiday Homes Walking Tour
On Sunday December 11, charming Hillsboro hosts guided walking tours of five historic downtown homes decked out with crafted fresh greenery, Christmas decorations and other locally sourced materials. Participants will learn about the history of the homes and their owners while soaking up village life strolling along stone sidewalks, sipping hot chocolate from Chocolate Palette and being entertained by street performers. Tickets cost $15 and tours run from 12 p.m. to 5 p.m. After the house tour, make sure to visit the Christmas Market at the Old Stone School.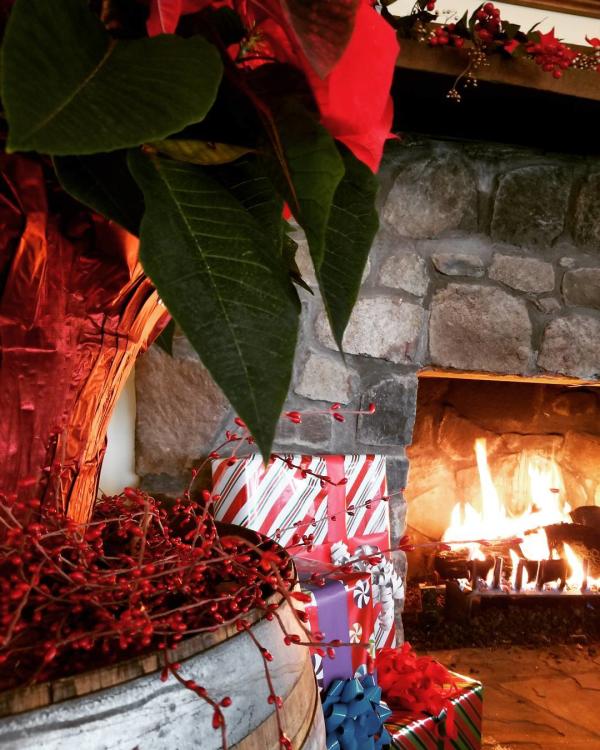 IG: analiisa_000
2022 Loudoun B&B Guild Open House Event: Holiday Bubbles & Brunch
Tour ten of Loudoun's most exquisite B&Bs and vacation rentals during this festive Open House event on December 11. Enjoy local cuisine, craft beverages, live music, fine art and more at the various locations with proceeds from the event (tickets cost $30) going to the Loudoun Abused Women's Shelter (LAWS) and Tree of Life Ministries. Visit loudounbandb.com for more details.
Dodona Manor Holiday Tree Walk
Dodona Manor's signature holiday event kicks off on December 3 at 4.30 p.m. with an outdoor tree lighting ceremony followed by an immersive tree walk. Bundle up for hot chocolate and s'mores before sunset and then enjoy walking by 17 beautifully decorated trees on the grounds, each representing a European nation that benefited from the Marshall Plan. This year's lighting is made more meaningful by the property celebrating the Marshall Plan's 75th anniversary. The event is free.
A Unicorn Christmas
Enjoy a Christmas fantasy world with the kids on December 10 at Hogback Mountain Pony Rides south of Leesburg where Santa, his reindeer pony Sparkle, Elsa, and Clyde the unicorn are decked out as Santa's gift delivery crew. The popular pony riding facility will also host live music, food vendors, a breakfast buffet with Santa and Elsa and wreath making classes from 12 p.m. to 2 p.m. with Nonnas Nutty Crafts in a heated room. Magical.
Lighting of the Vines, Bluemont Vineyard
Drive west on Route 7 toward Bluemont on any Thursday through Sunday evening this holiday season and a surreal sight greets you: to the left of the road, about a mile south, the slopes of the Blue Ridge are carpeted in a glorious golden glow. If it looks like a scene from a sci-fi movie, it is in fact The Lighting of the Vines, 15,000 holiday lights strung through 10,000 grape vines at Bluemont Vineyard. Launching on November 25 and on show until January 1, the vines are lit Thursday-Sunday at 5:30 p.m. While they can be seen from miles away, the best place to enjoy them is at the winery tasting room, the Stables event venue or the property's Harvest Room & Kitchen restaurant up the hill.
Village at Leesburg Wish Tree
The Village at Leesburg celebrates the holidays with a line-up of family friendly entertainment that includes an interactive Wish Tree – the only one of its kind on the East Coast. Lit on November 19 and featuring a light show at the top of every hour from 4 p.m., the tree is available for wishes daily. Once someone makes an online donation of $10 or more, they receive a digital token to take to the tree where they can make a wish and activate the Wish Tree light show. All donations go to Mobile Hope, an organization that provides support and emergency shelter to at-risk youth 24 and under.
One Loudoun Tree Lighting, Ashburn
Make your way to One Loudoun on December 3 at 5 p.m. for the 10th annual Holiday Tree Lighting, a modern twist on the traditional celebration. Santa is on hand for photos under the tree, there are train rides, ice carving demonstrations and live music and you're surrounded by the superb shops, restaurants, bars and ice cream parlors of the swanky Ashburn precinct.
Christmas Tree Shopping
Visit one of the many Christmas tree farms of western Loudoun to pick you own spruce. Snicker's Gap Christmas Tree Farm in Round Hill was featured in none other than Martha Stewart Living. You get to pick your tree out while touring the farm with hot apple cider in hand.
Wishing You a Beery Christmas
Several Loudoun breweries get into the festive fun this holiday season. Fans of the holiday classic A Christmas Story can visit Old 690 Brewing Company, which will be decked out to honor the show throughout the season and will also host a Holiday Market December 3 with a variety of vendors selling everything from pottery and candles to jewelry and jellies. On December 10, make your way to Lost Rhino Brewing Company's Holiday Street Market in Ashburn, where local artists showcase their wares while you enjoy fine craft beer. On the same day, Wheatland Spring Farm + Brewery in Waterford hosts The Lager Days of Christmas, an annual craft and farm produce market held in and around the historic tasting room barn. Proceeds go to Inova Children's Hospital.