Virginia 250th Commemoration
Next year, we will commemorate the 250th anniversary of the American Revolution in the Commonwealth of Virginia. Throughout Virginia there will be educational events, exhibits, historical sites and artifacts on display, and special events held to recognize this time period in history. Starting in March, Visit Loudoun will host a monthly series to prepare for celebrating the event in Loudoun. We hope you will join us.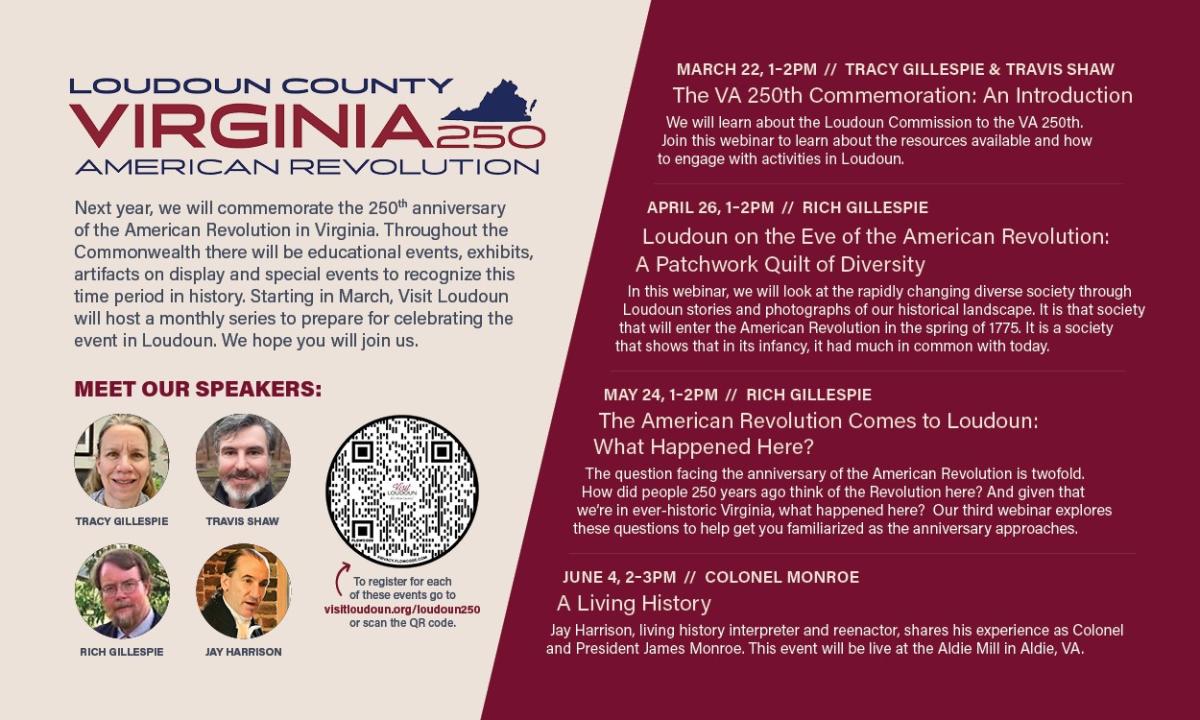 Tracy Gillespie and Travis Shaw / The VA 250th Celebration: An Introduction.
March 22nd from 1 P.M. - 2 P.M.
We will learn about the Loudoun Commission to the VA 250th. Join this webinar to learn about the resources available and how to engage with activities in Loudoun.
Rich Gillespie / Loudoun on the Eve of the American Revolution: A Patchwork Quilt of Diversity.
April 26th from 1 P.M. - 2 P.M.
In this webinar, we will look at the rapidly changing diverse society through Loudoun stories and photographs of our historical landscape. It is that society that will enter the American Revolution in the spring of 1775. It is a society that shows that in its infancy, it had much in common with today.
Rich Gillespie / The American Revolution Comes to Loudoun: What Happened Here?
May 24th from 1 P.M. - 2 P.M.
The question facing the anniversary of the American Revolution is twofold. How did people 250 years ago think of the Revolution here? And given that we're in ever-historic Virginia, what happened here? Our third webinar explores these questions to help get you familiarized as the anniversary approaches.
Colonel Monroe / A Living History.
June 4th from 2 P.M. – 3 P.M.
Jay Harrison, living history interpreter and reenactor shares his experience as Colonel and President James Monroe. This event will be live at the Aldie Mill in Aldie, VA.