If your idea of relaxation involves kicking back with a drink in hand and exploring a new beer destination, then by now you have probably started dreaming up your perfect "beercation."
With tasting rooms located on farms, industrial parks, mountain tops, historic downtowns and right off the bike trail – Loudoun County, Virginia is in no short supply of quality brews, making it a beer lover's hub and great getaway spot for your next beercation!
1. Breweries a Plenty!
Here in Loudoun, the craft beer scene has really taken root and the industry has truly become engrained in the community. Old Dominion Brewing Company kicked off the trend in 1989 and even though it has since merged and moved out of Loudoun, it helped pave the way for many more breweries to come along. In 2011, Lost Rhino opened in Ashburn and relaunched the momentum for craft breweries in Loudoun, followed by Beltway Brewing in 2013 and Old Ox Brewery in 2014.
Flash forward to today, the LoCo Ale Trail features 30+ craft breweries and growing! No matter what your favorite style is, you will find the perfect brew to quench your thirst. Organized into Brews with a View, Brews by Bike, Downtown Leesburg and the Dulles Corridor, visitors can choose to conquer the trail cluster by cluster or visit a brewery in each category to get the full experience. Access the full guide to the LoCo Ale Trail to help plan your stops!
Your guide to the craft beer scene in Loudoun. Grab a passport at any Loudoun brewery.
2. Location, Location, Location!
These days, convenience is everything! Luckily, Loudoun is home to Washington Dulles International Airport, making the entire county super accessible to visitors both out of state and out of the country! Loudoun is also just 25 miles outside of Washington DC, making it the perfect day or weekend trip idea for travelers coming in from the nation's capital.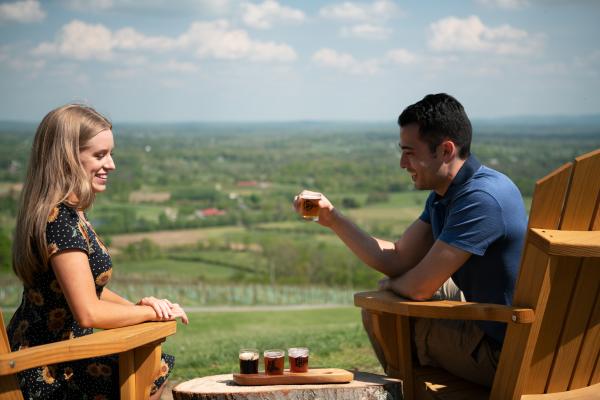 3. Straight from Farm to Tap
From barley to bottle, hop to hand, plant to pint, grower to growler - we could go on forever! Bottom line, agriculture plays a huge role in the craft beer industry in Loudoun. From an impressive hop processing facility to using resident bourbon barrels for aging, the creativity and passion for locally sourced ingredients is truly a shared vision amongst the brewery community. Some breweries showcase this closely by having their tasting rooms on the very land used in the development of the product. See where the brews come from first-hand with a visit to these Loudoun farm breweries:

4. Bikes and Brews
Loudoun is fortunate enough to have many ways to navigate through the LoCo Ale Trail. If you are feeling active or want to burn some of the carbs you plan to drink, then a great way to explore breweries and the beauty of the county in general, is by way of the Washington & Old Dominion Trail (W&OD).
A popular 45-mile trail in Northern Virginia, the W&OD runs from Shirlington to Purcellville and offers a paved path the entire way. In Loudoun, you can catch the trail in Sterling, Ashburn, Leesburg or Purcellville – creating amazing access points to several bikeable brews! With plenty of breweries just steps from the trail, you really can't go wrong! Many tasting rooms provide bike racks, creating a great place to take a pit-stop and refuel!
Check out these breweries that are accessible via the W&OD Trail:
Purcellville: Belly Love Brewing, Adroit Theory Brewing Company
Leesburg: Loudoun Brewing Company, Black Walnut Brewing, Black Hoof Brewing Company, Crooked Run Fermentations (Leesburg), Dynasty Brewing Company (Leesburg)
Ashburn: Old Ox Brewery, Lost Rhino Brewing Company, The Craft of Brewing, 
Sterling: Crooked Run Fermentations (Sterling), Beltway Brewing Company, Rocket Frog Brewing

5. Beer & Wine is Mighty Fine
Have a travel buddy that is not a beer lover? It's okay, we won't judge. As DC's Wine Country, Loudoun has a large winery presence that is sure to convince even the most adamant to join you on your beercation. A few tasting rooms even offer both wine and beer at the same location to accommodate vinos and beer buffs alike! Yes, this means wine and beer drinkers can live in harmony and both enjoy the views of Loudoun's countryside.
Now it's your turn!
We would love to hear about your favorite breweries in Loudoun.
Don't forget your Beer Passport!