Disclaimer: do not read while hungry!
If you've been following us on Facebook, then you know that this summer we're sharing what some of your favorite Loudoun personalities love about living here in our #LoveLoudoun series. We recently caught up with Rich Rosendale, chef and owner at Roots 657 in Leesburg. This certified master chef placed in the top 3rd at the Bocuse d'Or in France in 2013, and made his television debut on CBS' Recipe Rehab the same year. But despite his busy travel schedule, Rich is still a common sight back home in Loudoun County at Roots 657, a café and local market.
"I really loved the area when I first visited. From a food standpoint, I really liked that there were a lot of great resources here," Rich says. "(There are) a lot of artisans who are passionate about making beer and wine and local farmers, so it really had an ideal blend of all the things I was looking for when opening Roots 657."
Planning to head out on a farm-to-table quest of your own? Here are six local Loudoun County spots you might want to add to your menu.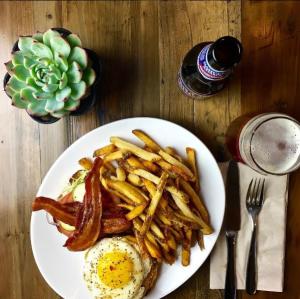 From meats to produce, the quality and source of ingredients are at the heart of Roots' success. An ideal stop for either stocking up on a gourmet picnic or dining in, Roots sells products from local artisans, as well as a selection of made-to-order sandwiches and baked goods. Rich recommends you try the burger here. It's his favorite!
The menu is always changing at Market Table Bistro in Lovettsville, so if you've been here before, it's probably time to come back again. Like Roots, the market offers products from local artisans. The dining menu focuses on the freshest produce and ingredients from local farms, vintners, and more.
The Restaurant at Patowmack Farm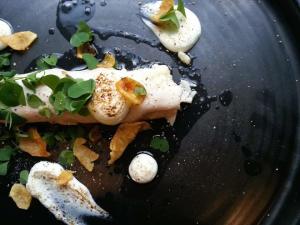 At the Restaurant at Patowmack Farm, the chef's pantry is the field right outside the building. Established in 1986, the restaurant here was one of the US' first farm restaurants. If the organic local, cuisine isn't enough, the setting in a glass conservatory or gazebo with a view of the Potomac River makes for a dinner to remember.
Market Burger Fries & Shake is much more than your average burger joint. With beef and ingredients sourced locally and toppings like maple mustard and house made sweet dill pickles, the burger here is definitely elevated in style. Grab an old-fashioned milkshake and hand cut fries to complete your meal.
Harriman's Virginia Piedmont Grill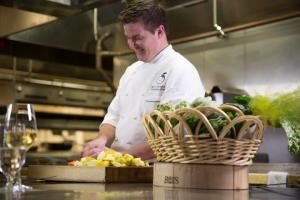 Amazing countryside views complement the locally sourced food at this restaurant at Salamander Resort & Spa.  The contemporary steakhouse cooks up local beef among other menu highlights like duck breast, and "not your mother's pork chop." Want to learn from the chefs here? There are weekly cooking classes too!
Located at Lansdowne Resort & Spa, Cotton & Rye celebrates Virginia's culinary history with dishes from the past. Chef Marcus Repp has partnered with local farmers to ensure the freshest local produce is used in dishes native to the state. Try the famous Turkey Pot Pie paired with a Loudoun County wine. Of course, there are a few crab and other seafood options on the menu here too!
With so much farmland and foodie heritage, the produce options are limitless for not only these restaurants, but plenty of others too! Visit our website to find even more restaurants that bring the farm to the table in Loudoun County.