Story Ideas
We have an exciting story to tell! Our vibrant community offers award-winning wines and vineyards, historic towns, boutiques to brand-name shopping, a booming craft beer scene and more. Use one of these leads to spark your next great story idea on Loudoun!
Craft Beverage Capital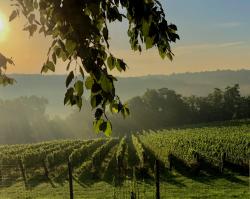 With more than 40 wineries on rolling hills and vine-covered slopes, Loudoun is known as DC's Wine Country® and a place where the views are as sumptuous as the vintages. It's a vibrant craft beer destination too, with the popular LoCo Ale Trail connecting some 30-plus breweries, from trendy urban tap rooms in the east, to mountain top beer gardens in the Blue Ridge out west. And if spirits are your thing, Loudoun is home to two artisanal distilleries producing award-winning rye, gin and even absinthe. It's not only grapes and grain that Loudoun ferments: cideries are popping up and a "winery" is even fermenting honey for mead.
250 Years of History in an Hour
In county seat Leesburg you can visit three sites connected to four major American wars all within three miles of each other. In 1776, during the Revolution, the Declaration of Independence was read on the steps of Loudoun County Courthouse, downtown. A short walk away is Dodona Manor, the home-turned-museum of World War II General George C. Marshall. Marshall would later draft the Marshall Plan at the start of the Cold War. A short drive away, on banks above the Potomac, is Ball's Bluff, site of one of the earliest battles of the Civil War, in 1861.
Dirt Roads, Digital Highways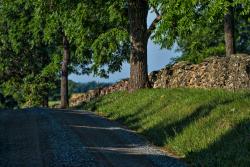 While western Loudoun has more miles of unpaved roads than any other county in Virginia – take back roads to the villages of Unison, Willisville, Waterford, Taylorstown, Lincoln and Morrisonville to see what we mean – the modern precincts of Sterling and Ashburn in the urban east are home to scores of sleek hi-tech data centers that power 70% of the world's Internet traffic. This area is known as Data Center Alley or the Silicon Valley of the East. Loudoun's eastern corridor is also home to Dulles International Airport. 
Pulitzer Winning Writers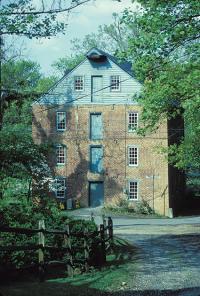 Loudoun County is DC's Wine Country®, but it's literary country too. A single street in tiny Waterford, (est. 1733; pop 2,467), has been home to three Pulitzer Prize winning writers – Larry McMurtry (Lonesome Dove), Geraldine Brooks (March) and journalist Tony Horowitz, author of Confederates in the Attic - as well as award-winning playwright John Guare (Six Degrees of Separation). Pulitzer winning humorist Russell Baker (Growing Up), grew up in the even smaller Morrisonville a few miles away.
Lights, Camera, Loudoun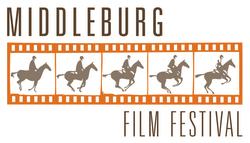 Multiple Loudoun locations have appeared in films and TV shows or served as quiet refuge for stars looking to escape. In 2014, historic Morven Park served as the backdrop to Steve Carrell's and Channing Tatum's "Foxcatcher". Scenes from the epic Civil War movie "Gettysburg", starring Tom Berenger and Martin Sheen were shot around Leesburg. Talking of Sheen, an episode of the West Wing (in which he plays fictional president Jed Bartlett), was partly shot in scenic Bluemont. The Welbourne Inn outside Middleburg was setting for the 2004 comedy drama "Crazy Like a Fox" starring Mary McDonnell. Smithsonian National Air and Space Museum Steven F. Udvar-Hazy Center was featured in Transformers: Revenge of the Fallen. As for the stars of Loudoun, during her courtship with Sen. John Warner, Elizabeth Taylor was a regular guest at Red Fox Inn & Tavern in Middleburg, while BET Co-founder Sheila Johnson settled on Middleburg to open Salamander Resort & Spa. Johnson is also the founder of the annual Middleburg Film Festival, a major stop on the Oscar Trail. Hollywood legend Robert Duvall lived in Loudoun for many years and is now resident in neighboring Fauquier County.  The gala opening of his 2002 movie "A Shot at Glory" was held at the Tally Ho Theatre, downtown Leesburg. 
The Great Hound Match and Other Horse Stories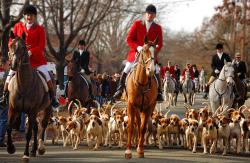 How did postcard-worthy Middleburg, founded in 1728, become America's horse and hunt capital? In 1905 the Great Hound Match to determine the best breed of foxhound – English or Southern-bred American dogs – was held around Middleburg. Wealthy New York huntsmen came down to take part, and newspapers from New York, Boston and even London reported on it. Wealthy Northerners began to see and read about the beautiful countryside damaged during the Civil War and started buying up its derelict estates, fixing grand homes and preserving the land for equestrian pursuits. Thus, Loudoun is reborn as Hunt Country.
City in the Country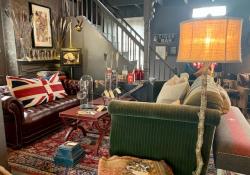 In recent years big name chefs, restaurateurs, designers, artists and artisans have made Loudoun home, and our small towns and villages have taken on the chic style of trendy big city neighborhoods. Master sommelier Jarad Slipp of Knead Wine, Middleburg, was a chef at Michelin Star restaurants in New York and London before settling in Loudoun. Restaurateur Michael Lee, who opened Lee Tai Tai in Ashburn in 2020, has dozens of restaurants along the East Coast; and for many years The Foundry, a vintage British-inspired furniture, lighting accessories and men's clothing store was a staple of Washington, DC's trendy H Street until owner Yvette Freeman relocated it to the tiny town of Lucketts- an antique lover's paradise. Leesburg's King Street meanwhile has the boutiques, street-side dining, café lifestyle and alleyways reminiscent of Rome, Paris or New Orleans.
Agribusiness Innovators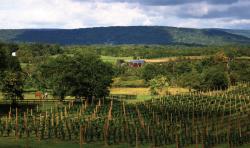 Agritourism is big business in Loudoun, and with that comes outside-the-box innovators. At Wheatland Spring Farm + Brewery beer is made using yeast captured from grain grown on property; at sublime Restaurant at Patowmack Farm, the mushrooms and herbs that appear on your plate are foraged from the surrounding hills; at Endless Summer Harvest farm gourmet lettuce and salad greens are grown hydroponically in hi-tech greenhouses; and at Sunset Hills Vineyard the sun that nourishes the grapes also powers the solar panels that help make award-winning wines. And so, the world turns…
Meetings, Sports, Weddings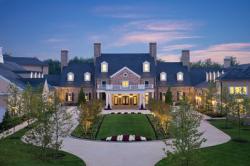 Leave the hustle and stress or urban life behind and book your wedding, meeting or sports event in the open space of DC's Wine Country®. Couples are drawn to rustic-chic barns on historic farms and boutique wineries on Blue Ridge Mountain slopes, while companies and businesses have a range of conference rooms and event spaces available, including the Forbes Fiver Star Salamander Resort & Spa in Middleburg, and luxurious Lansdowne Resort & Spa on the banks of the Potomac River in Leesburg. On top of that, book our world-class golf courses, international ice rinks, and state-of-the art soccer, softball and baseball facilities for team building or tournaments.