Fall is one of my favorite seasons because I get to break out  my boots, scarves and big sweaters. Another great thing about the season is the beauty it brings to Loudoun. The trees and vines are changing colors and LoCo is the perfect place to catch the Fall foliage. Spend a weekend in Loudoun at one of our many wonderful hotels and resorts and travel around to fall in love with Loudoun at some of our favorite spots: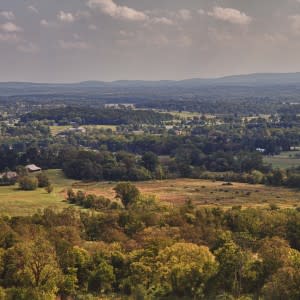 Bluemont Vineyard is nestled in the Blue Ridge Mountains at an elevation of 950 feet, which allows for  visitors to enjoy delicious wine and spectacular panoramic views of the mountains and countryside from the tasting room and gorgeous balcony.
Overlooking the beautiful valley between the Blue Ridge and Short Hill mountains, Breaux Vineyards has the perfect view and perfect wine to take in the landscape's changing colors.
On the other side of the mountain from Bluemont Vineyard, Dirt Farm Brewing offers similarly stunning views for those who want to enjoy a nice brew on the LoCo Ale Trail instead of a glass of vino (both are great choices though!).
Instead of taking in the beauty of the trees, Empower Adventures at Salamander Resort & Spa allows you to fly through them while ziplining down 5 lines that are 30 to 55 feet off the ground!
Goodstone Inn & Restaurant is a romantic venue set on a breathtaking 265-acre estate right in the middle of wine and horse country with views of the mountain range and countryside. Whether you are staying in the historic houses or having lunch at the gourmet restaurant, the landscape is perfect.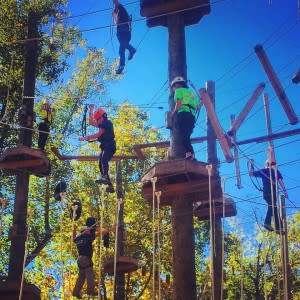 For those who want to be immersed in the season, check out Harpers Ferry Adventure Center and take a ride through the trees during their off-road segway tours or climb high in their aerial adventure park to see the beautiful colors for miles!
Whether you are getting some last minute swings in on the green or enjoying a meal on the deck of this beautiful resort, you will be able to experience the magic of the Fall season at Lansdowne Resort.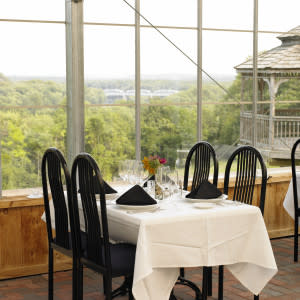 Enjoy an amazing farm-to-table meal in the gazebo or a remodeled greenhouse at The Restaurant at Patowmack Farm which overlooks the Potomac River. Make reservations during sunset to really experience the breathtaking beauty of Loudoun's Fall foliage.