General Tournament Information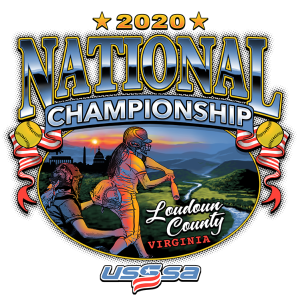 Tournament Headquarters
The tournament headquarters will be at Philip A. Bolen Memorial Park
Rules
All playing rules shall be governed by the official USSSA Fastpitch softball rulebook and national by-laws. The rulebook online at www.usssa.com will always supersede the latest printed version if a discrepancy exists.
The 10U "C" Division shall play by the following rules. Please click here for 10U "C" rules.
Awards
Awards Package sizes will be based on the number of teams in the tournament. Below is the full size package that will be awarded for divisions with more than 32 teams per age division:
Team trophies to the top six teams
Individual awards to the top six teams
Team Sportsmanship award
Outstanding Pitcher award
Outstanding Offensive Player award
Outstanding Defensive Player award
MVP award
Parks
The primary location will be the Philip A. Bolen Memorial Park. Other parks within the greater Sterling, Virginia area will be used as needed. They include, but may not be limited to Brambleton Sportsplex and Edgar Tillet Memorial Park. The tournament website listed above provides driving directions and park information for each facility. The daily park assignments for each age/class bracket will not be known until very shortly before the event and are always subject to change.
Philip A. Bolen Memorial Park
42405 Claudia Drive
Leesburg, VA
Brambleton Sportsplex 
42180 Ryan Road
Ashburn, VA 20148
Edgar Tillet Memorial Park
21561 Belmont Ridge Road
Ashburn, VA
20148
Softball & Bats
The tournament ball will either be the Worth Dream Seam or USSSA Pride ball, yellow leather cover, .47 cor. 
All bats must bear the USSSA logo with a manufacturer's stamp of 1.20 BPF and must be in accordance with the 2016 bat regulations.
National Championship Merchandise
USSSA National Championship apparel and souvenirs, such as t-shirts, National Championship pins and program books will be sold during the Manager's Check-In, Opening Celebration and at each park throughout the tournament.  All teams registered by June 15 will be given instructions on how to pre-order their tournament t-shirts.
Manager's Check-In
Required Materials – Team Roster & Team Insurance
All managers will be required to check in their team prior to the event. At this check-in, it is mandatory that the manager turn in a USSSA official roster, fully signed by players and parents and a copy of team insurance.
The Manager's Check-In will take place at the Holiday Inn – Dulles (45425 Holiday Dr, Sterling, VA 20166) from 9 a.m. to 11 a.m. on Wednesday, July 17th.  Players do NOT need to be in attendance for this check-in.  The Managers' Meeting and Lunch will follow check in at 11:30 a.m. at the Holiday Inn – Dulles.  Two coaches per team are permitted to attend the Managers' Meeting and Lunch.
Download the Manager's Checklist by clicking here.
Gift Exchange
There will be an optional team gift exchange.  Teams wishing to participate should bring something that is representative of their home area, the value of which is usually in the +/-$10 range.  It is recommended that teams bring a minimum of 16 gifts to exchange.  The team manager will inform our staff at the Manager's Check-In that their team brought a gift to participate in the gift exchange.  Participating teams will be paired up during the Managers Luncheon at which point the team representatives can coordinate a time that is best for both teams to exchange gifts.
Attractions
There are plenty of things to do off the field during your stay.  For information on area attractions in Loudoun County, Virginia, please Click Here.