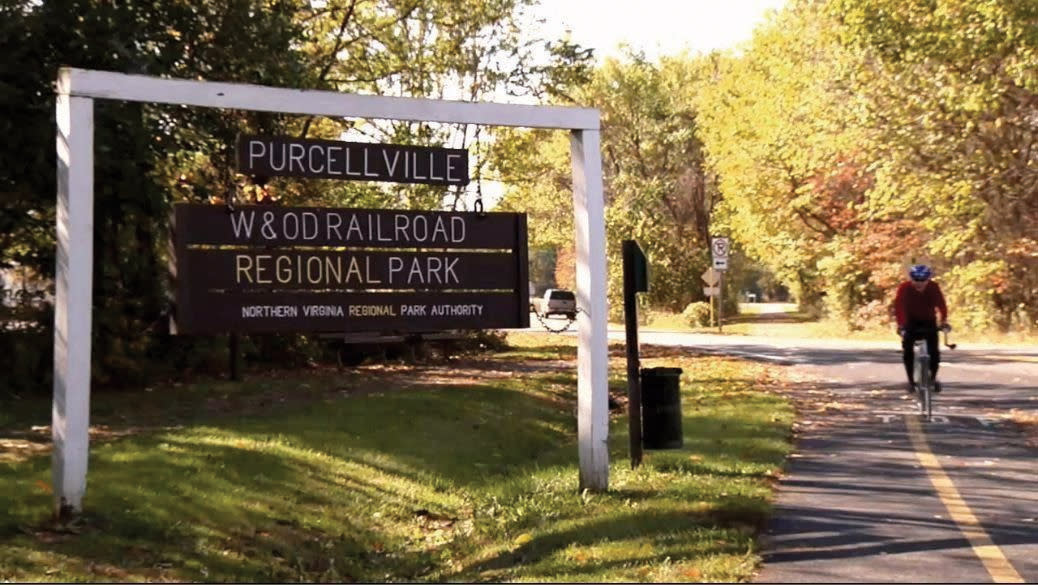 Fall is a great time to explore Loudoun by bike, and we are lucky to be home to what people call Virginia's skinniest park, the Washington & Old Dominion Trail. This 45-mile-long cycling, walking, and – in parts- equestrian trail is built on the former W&OD railway line. With 20 miles of the trail in Loudoun, there is no shortage of places to stop along the way and support Loudoun's local businesses.
Begin the adventure near the restored, circa 1904 train station in Purcellville, and don't forget to snap a photo with the wine-themed LOVE art that pays tribute to the region's rich wine country. Grab a donut or homemade cookie from Sweet Rose Bakeshop to serve as fuel along the way.
As you head east, take in the spectacular Piedmont scenery of vineyards, fields of grain and lush green pastures dotted with cows, horses and red barns. Enjoy the open views of the Blue Ridge Mountains as you near Hamilton Station Road, which marks the spot where the W&OD train once stopped. Once near Hamilton, you could cycle south into Hamilton village, or north, one mile up the hill, for a cool glass of Viognier at The Barns at Hamilton Station Vineyards.
Continue your adventure to Harry Bird Highway and take the steep climb to grab some refreshments at Vino 9 Market. The melted brie, apple and honey sandwich is a favorite or try the smoked mac and cheese before you continue east toward historic Leesburg. Park your bike at Raflo Park and explore the sculpture garden, then download the Leesburg Walking Tour App, which features everything from guided public art tours to history tours. Shop trendy boutiques, visit the Loudoun Museum and cool off with an oversized ice cream cone from Mocatinas. Bike through town on September 18 to experience the Crossroads Music Festival, which will feature regional musicians and bands at various venues throughout Leesburg.
After exploring Leesburg, pedal to mile 25 in Ashburn. Besides home to local favorites like Carolina Brothers Pit BBQ and the Wine'ing Butcher Market, this mile marker is also just steps from Old Ox Brewery. Enjoy a Golden Ale, Pale Ale or Porter in the outdoor beer garden.
For people who prefer a bit more off-roading by bike, Loudoun is also home to more than 300 miles of unpaved, gravel roads. Dating back to the 1700's, these roads take riders through Loudoun's rich agricultural scene, past horse country, vineyards and farms. In early 2021, Loudoun County released a downloadable map of the rural roads to follow. Or, participate in the annual 1725 Gravel Grinder scenic bike ride, which follows the historic gravel roads in Northern Virginia.