From vivid paintings and whimsical sculptures to intricate Japanese-style fiber-art, Loudoun has a thriving art scene in a wide array of mediums. In celebration of Women's History Month, Audrey Caldwell meets three unique and inspirational female contemporary artists who live and create in Loudoun.
Murals in Leesburg, Brambleton and Middleburg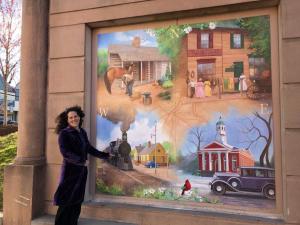 A child of a diplomat, Penny Hauffe has lived all over the world, the bright colors in her work a reflection of her travels.  An undergraduate at Oxford, she received a Diploma with Honors at the Gemini School of Illustration in Berkshire, England. Hauffe primarily trained in acrylic and oil painting, but she works in a wide variety of media including chalk, clay, metal, glass and found objects.
A 15-year Loudoun resident, Hauffe settled here because "art appreciation is strong, there's a love of rural scenes and animals which I love to paint, and a growing interest in murals in new communities, one of my favorite types of job." Her murals can be seen at The Leesburg Auto Wash, on King Street in Leesburg (the Gale Waldron mural), the One Life Fitness building in Brambleton, and the private dining room at the Goodstone Inn, Middleburg.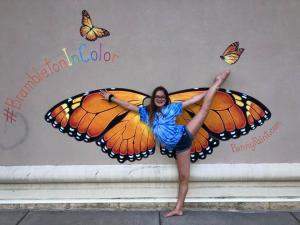 Her advice to other young artists (especially women) is to "have faith in yourself and the individual style that you bring to the world, have a good business plan and concrete objectives, and be willing to share in and learn about your community." Hauffe lives her motto, offering private and group classes throughout the year. To learn more and see additional examples of her artwork, visit her online.
Sculpture in Leesburg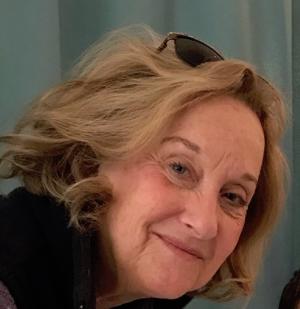 After 25 years teaching and directing Theater Arts in Oklahoma, Barbara Wilson moved to Loudoun and taught Theatre at Heritage High School and Northern Virginia Community College. After retiring she turned to the study and practice of ceramics, sculpture and mixed media. Her work reflects her theatrical background in its setting and style.
Inspired by master sculptors Degas, Rodin and Luchessi, she has in turn impacted the local arts community through the volunteer-run nonprofit Friends of Leesburg Public Arts (FOLPA), where she has served as President and is currently Acting President. "There are many opportunities for local artists to show work at businesses and galleries. Surveys by FOLPA show demand for street murals and public performing arts venues."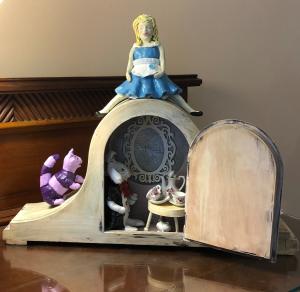 Wilson's whimsical sculptures can currently be seen at King Street Coffee in Leesburg, while she has also exhibited at local festivals and spaces such as the Tryst Gallery, Visit Loudoun, and the Purcellville Art Gallery. Her work can also be found online. Wilson's advice to other young artists: "join and support local art organizations such as Commission on Public Art (COPA), Loudoun Arts Council and FOLPA."
Ancient Fiber Art in Purcellville
Thirty years of teaching in schools and colleges in the United States and in Saudi Arabia taught Trish Harris patience. Yet, it was cultural experiences provided by travelling the world that inspired her fascination with fiber arts. On a trip to Asia she discovered the Japanese folk-art form, Temari. "It sparked the brightest light in me and became my second language," she says.
Embroidered balls, originally made as toys from scraps of kimonos, evolved into a revered art form in Japan. Temari pieces are highly valued and signify deep friendship and loyalty. Brilliant colors are chosen to symbolize the wish for a long and happy life for the recipient. As a member of the Japanese Temari Association in Tokyo, Harris is pursuing certification as a Temari master. Her patience is invaluable for this lifetime pursuit; Harris is currently at level two out of four.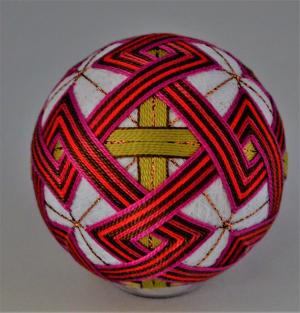 After downsizing and moving to Loudoun, Harris discovered a thriving artistic community. "You don't have to look far to find a creative tribe. I'm inspired and grateful for that."
She has exhibited in libraries, foundations, and the Woodlawn Needlework Exhibition in Alexandria and currently has pieces in the "From All Angles" exhibition at Franklin Park Arts Center in Purcellville. Her work has also appeared at Earth, Wind and Fleece in Lovettsville. Harris teaches fiber art in Loudoun County and to private groups elsewhere. "Be responsible for your own voice," she encourages young artists. "Take the time to find it. Try different things, and keep on learning." You can learn more about Trish here.
Author's Bio:
Audrey Caldwell, MBA is a content creator and experienced communications professional. She is passionate about empowering women over 50 to get out and travel more. She does this through speaking engagements and blogging at Memorable Women's Travel.