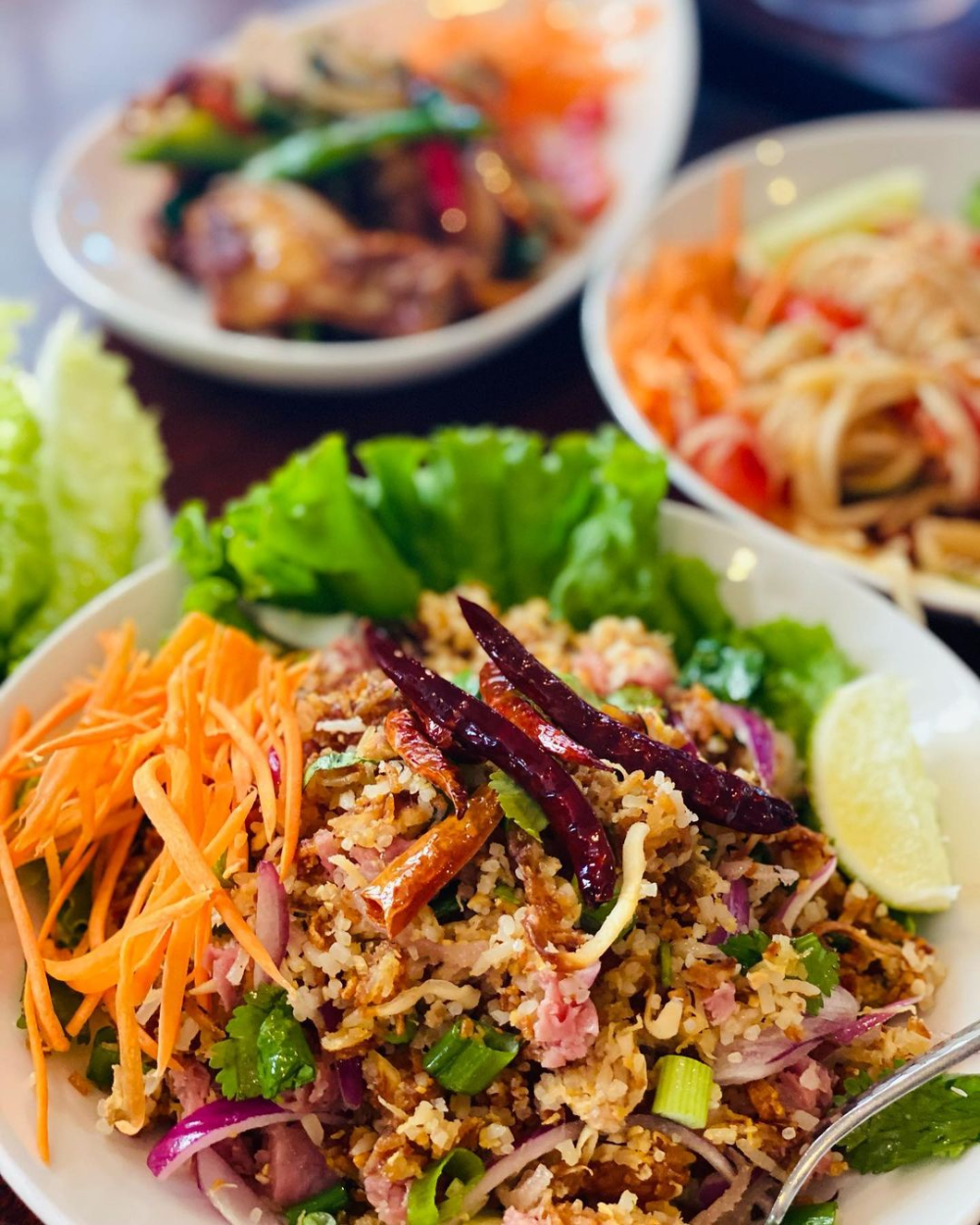 Loudoun's Global Dining
On a recent Thursday evening, leaving a yoga class at Five Peaks studio in Lansdowne, we saw a strange thing: a long (socially distanced) line of people outside Bhai Sahab Indian restaurant on Promenade Drive. We went to take a closer look. It turns out that every Thursday Bhai Sahab serves traditional Rajasthani Thali – a celebratory mélange of dishes presented on a large round metal plate and eaten communal style. Residents in Northern Virginia have taken notice and flock here each Thursday. An hour later we had a table of our own in the modish, high-ceiling space and were soon tucking into mouthfuls of dal bati, kadhi, khichdi and all manner of spicy sauces and bread. So much for that yoga health kick.
"We have the best thali in all Virginia," a waiter said. "You can see – everyone comes here!"
While America is the great melting pot, we're often led to believe you can only find authentic ethnic cuisine in big cities. Not so. Loudoun has palates from all corners of the globe – and plates to match.
Lebanese food? Sterling is home to the opulent Sahara Restaurant Lounge. The Sahara may be a desert in Africa but the food here – grape leaves, falafel, tabouleh, chicken shawarma – is delectably Middle Eastern. As for the exotic ambiance, diners sit on cushions at low slung tables under lantern lights, hookah pipes are passed around and Arabic music fills the air. You'll think you're in Beirut.
Then there's Asian fare. While there's no shortage of sushi or Thai in Loudoun, we take a special shine to smaller, quirkier joints like Thai Pan in Leesburg, popularly known as the "Gas Station Thai" place since it's located in the brick kiosk of the Liberty gas station downtown. The setting may be underwhelming but the food – specialties like crispy duck basil and pla lad prik (whole fish in chili sauce) all made with fresh ingredients – is to die for. Liberty is now easily our favorite gas station.
Similarly quirky is Rodeo's Mexican Grill in downtown Lovettsville: authentic enchiladas, fajitas and chile relleno in the heart of town and owned by local contractor Victor Juarez. Named for the annual charreada Mexican rodeo event Juarez hosts on his five-acre property outside town, you will not taste better Chimichangas this side of Oaxaca. Over in Purcellville, meanwhile, are the Greek and Turkish delights of the recently opened Mediter-Rustic Cuisine. The menu includes babaganoush, grilled halloumi and eggplant musakka, the latter a Greek classic and our personal favorite.
And what about German cuisine?
German immigrant Nils Schnibbe is becoming a restaurant impresario in Loudoun with Schmidt's BBQ and SideBar in Leesburg, but at More Better Beer Garden, his Round Hill eatery, he pushes some of the German dishes of his childhood. "Das Menu" features delights such as footlong brats with sauerkraut and a Jagerschnitzel – crispy breaded pork chop topped with mushroom gravy.
Welcome to the melting pot!