Anyone passing Inova Loudoun Hospital on Riverside Parkway through Thursday May 22nd will be in for a bright surprise. One wall of the building, above the nurses' and doctors' entrance, will be bathed in resplendent blue light, the words "Thank You" stenciled in white light in the middle. The 750-watt GOBO (GOes Before Optics) light show, part of the global #LightItBlue movement to pay tribute to medical workers dealing with COVID-19, is being installed by Loudoun lighting company Superlative Events.
This is not Superlative's first lockdown lighting rodeo.
Since joining the #LightItBlue campaign, the Hillsboro company has lit up multiple Loudoun locations over the past two weeks including the Old Lucketts Store, Kalero Vineyards, Catoctin Creek Distillery and the historic Davis Mansion at Morven Park.
"We're doing it to help keep all the small businesses that are struggling as a result of the lockdown in everyone's mind," said Superlative Events owner Brian King. "Like so many other businesses we've also had to shut down because of COVID-19 but through #LightItBlue we've been able to stay busy and do something unique to help support and promote our neighbors and the community."
King said he was inspired by Catoctin Creek transitioning to make hand sanitizer for emergency workers.
Anyone interested in viewing the Inova Loudoun Hospital light display (while keeping social distance), the entrance at 44045 Riverside Parkway will be lit up from about 9pm to 6am for seven days.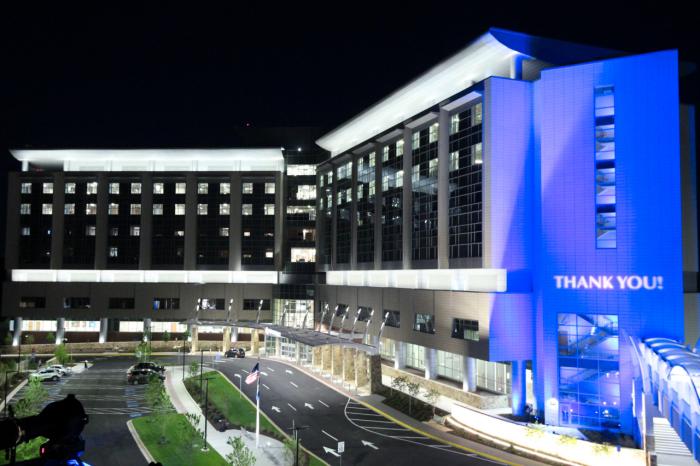 Superlative Events is not the only Loudoun company to retool regular operations to help the Loudoun community in its time of need.
Over in Ashburn, Cheers Sports, has started the Cheers Sports Community Tee Project. Looking for a way to support local businesses and nonprofits impacted by the lockdown, Cheers is selling shirts with the names of select businesses or nonprofits printed on the front. The shirts cost $19 each, with $10 going to the company or nonprofit in question. Among the 45 companies featured are Loudoun Hunger Relief, Hamilton Volunteer Rescue Squad and popular Leesburg bar Spanky's Shenanigans.
"The campaign is new but I've already seen people in the shirts," said sales rep Ron Petrella. According to Petrella many of the recipient companies are in turn giving their proceeds to those in need. Spanky's for example is donating proceeds to the Loudoun Musicians Fund, established for local musicians who have been unable to perform live events as a result of the lockdown.
Petrella hopes that sightings of the Tees become common and help unify Loudoun in its time of need.
While the well-being of struggling local businesses is a major goal of Cheers Sports, the health of hospital workers has been on the mind of wellness entrepreneur Robyn Shand Engelson, owner of the health shake store Nutrition Spot Leesburg. Using donations from customers and tips from curbside sales at her downtown Leesburg store, Engelson has been able to provide 400 free nutrition-rich Survival Kits to nurses, doctors and emergency room staff at Inova Emergency Room Leesburg and Inova Loudoun Hospital.
 "We had only opened our Leesburg store a few months before the shutdown," said Engelson. "My goal has always been to help people be healthier and happier and thanks to the generosity of our customers we've been able to help keep our frontline workers healthy during the pandemic."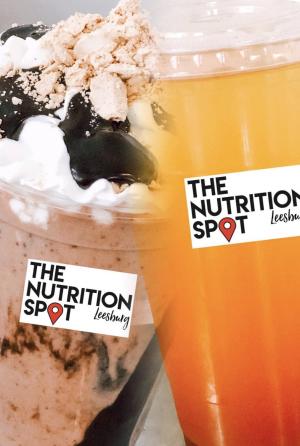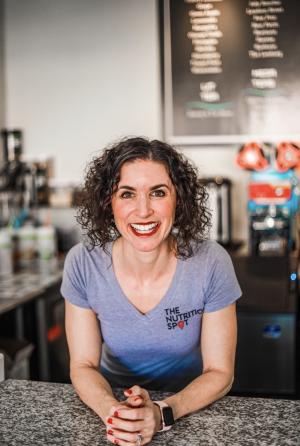 Loudoun businesses are assisting in other ways too. Crooked Run Brewing is offering a free four-pack of beer during curbside hours to healthcare workers, first responders and grocery and pharmacy workers. The brewery is accepting donations to the fund as well. The aforementioned Spanky's Shenanigans hosted a stay-in-your-car event on Wednesday – drivers were serenaded by local musicians while collecting food orders – the funds going to local musicians.
Even Loudoun municipalities have stepped up. The Town of Purcellville is mailing two $10 vouchers to local residents which can be redeemed at some two-dozen participating restaurants, retail stores and services through December 31, 2020. Local businesses that want to join the program should visit: www.purcellvilleva.gov/950/Voucher-Program.
Middleburg meanwhile made national news with its voucher campaign. The town provided a dozen local restaurants with a check for $10,000 in return for 500, $20 vouchers, which were sent out to local residents. A local juice bar and an ice cream shop won $5,000 contracts for 500, $10 coupons. According to Washington Business Journal, the campaign has been so successful restaurants such as King Street Oyster Bar, which had considered closing, have been able to remain open for curbside and delivery.