Schedule
The USSSA Fastpitch program will use a four-game format for the "C" divisions in this National Championship Tournament.  Teams will be seeded into pools based on current USSSA ranking points and play a round robin.  All teams will be seeded into a double elimination championship bracket following pool play.  Seeding will be based on pool finish.  The exact format of the tournament, e.g., number of games, number of teams in each pool, etc., will be set by the tournament director following USSSA Fastpitch guidelines as approved by the USSSA Fastpitch National Committee.
Below is a brief overview of the day by day schedule for this tournament:
Wednesday, July 13

TBD

Managers Check In (Location TBA)

Wednesday, July 13

TBD

Managers Meeting and Lunch (Location TBA)

Wednesday, July 13

3:00pm

Opening Celebration - Segra Field

42095 Loudoun United Drive, Leesburg, VA 20175

Thursday, July 14

8:00am

National Championship Pool Play Begins

Friday, July 15

8:00am

National Championship Bracket Play Begins

Saturday, July 16

8:00am

National Championship Bracket Play Continues

Sunday, July 17

8:00am

National Championship Bracket Play Resumes to Completion
The location of the Mandatory Managers Check In & Lunch will be announced at a later date.
Schedules will not be mailed out in advance per national policy.  The pool play and double elimination brackets will be given to coaches during the Manager's Check-In.  Player, coach and other pre-tournament items will also be distributed at the Manager's Check-In.
Note that all times are subject to change.  Please verify itinerary during the Manager's Check. Once the tournament begins, managers must check the main bracket board and/or online schedule for any changes in game times, field assignments or other items related to tournament play or functions.
Opening Celebration
All teams and their families are invited to participate in the tournament's opening ceremony celebration held on Wednesday, July 13 from 3:00 until 5:00pm at Segra Field (42095 Loudoun United Drive, Leesburg, VA 20175). We're rolling out the red carpet with a fun-filled Hollywood-themed afternoon featuring team building games, relays, official merchandise sales, corn hole contests, a photo booth and concessions for sale. Dress like a celebrity or superhero with signage to match at kick-off team parade!
3:00 pm – Teams arrive and line up for Team Parade 
3:15 pm – National Anthem and announcements followed by Team Parade 
4:00 to 5:00 ­­­­– Games and activities for all players 
Concessions will be sold including beer, wine, $2 water, soda, hot dogs, burgers, snow cones, cotton candy and other snacks. No outside food or beverages permitted in stadium.  
Teams are encouraged (not required) to create and submit a team TikTok video that shows off their personality utilizing this year's Hollywood theme.  Each submitted TikTok will be added to create one tournament video available for viewing during the tournament.  Submit your team's TikTok video to RSVP@aboutbwf.com by July 6, 2022.
Check out last year's Tik Tok video here:  USSSA TikTok 2021
Special Promotion
Click here for discounted tickets for a fun night out at the Loudoun United professional soccer game on Saturday, July 16, 7:15 pm at Segra Field 
Highlights: 
Loudoun United is the direct affiliate of D.C. United – see future Major League Soccer stars 
Kids can join the player high-five tunnel before the game…just arrive by 7 pm! 
Live music starting at 6:15 pm 
Cornhole, ladder ball, giant connect 4, and more games on the concourse! 
Face painting available for all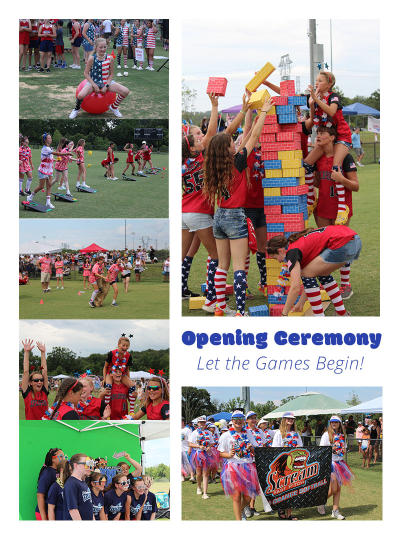 To get to Segra Field: 
All attendees must use Sycolin Rd. directly to Crosstrail Blvd. See map below for details.