Women Who Inspire: Craft Beverage Roundtable
Mark your calendars for Friday, March 26th at 7pm for a virtual roundtable sponsored by Visit Loudoun and hosted by Jessica van Dop DeJesus, @diningtraveler, featuring women leaders in Loudoun's craft beverage industry. Join us for a conversation about the challenges women producers faced on their journey to becoming leaders in the industry, and what supports they found along the way, as well as pathways for employment in the industry. Panelists include Melanie Natoli from Cana Vineyards and Winery of Middleburg, Lori Corcoran of Corcoran Vineyards & Cidery, Allison Lange of Old Ox Brewery, Katie DeSouza Henley of Casanel Vineyards and Winery, Becky Harris with Catoctin Creek Distilling Company, and Melissa Hoffman past co-leader for the Pink Boots DMV chapter.
CLICK HERE to register for this free roundtable event. 
Jessica van Dop DeJesus, Moderator
Food Writer and Photographer

Jessica is a widely-published travel and food writer and photographer. She's the founder of the popular foodie travel website, The Dining Traveler, and the author of the coffee table book, The Dining Traveler Guide to Puerto Rico. Her writing has been featured in publications such as Travel Channel, Eating Well, Washington City Paper, Southern Living, and Telemundo. She began traveling the world over twenty years ago as a young Marine. From serving as a translator in the Senegalese countryside to interviewing chefs in Peru, she loves learning about cultures, food, and people. She has traveled to over fifty countries and lived in six. When she's not traveling, she's at home with her family in Washington, DC. Follow her on Instagram, Facebook, Twitter, Pinterest, and YouTube @DiningTraveler
Melanie Natoli, Winemaker
Cana Vineyards & Winery of Middleburg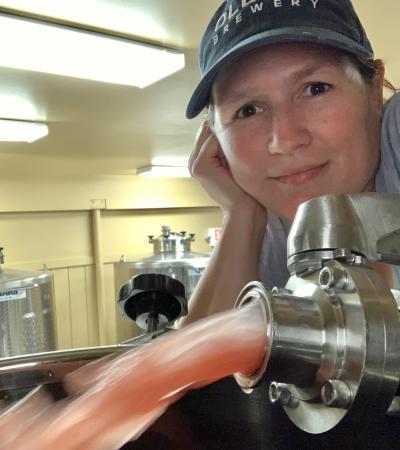 Winemaker Melanie Natoli's journey in winemaking began as an intern in 2009. For two years she split her time between her first career in physical therapy and her new found passion in wine. In 2011, she took the final leap to enter the wine world full-time as the assistant winemaker at Fabbioli Cellars. Melanie joined Cana in 2015 to take the reins as winemaker and vineyard manager. She has advanced the wine program at Cana to produce several award winning wines and in 2017 was the first Virginia winemaker to be named Woman Winemaker of the Year at the Women's International Wine Competition. Melanie strives to produce acid driven wines with elegance and finesse. She is a dedicated Rosé lover who's on a mission to show the world the beauty of an intentional and focused Rosé.
Lori Corcoran, Wine and Cider Maker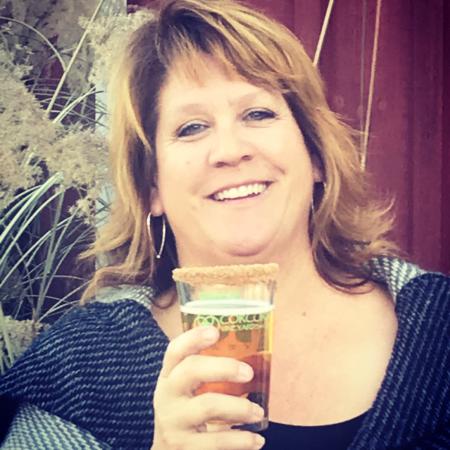 We planted our vines in 2002 after I had my fourth child and was looking for something else to do, and opened our tasting room in 2004. I was the cellar rat for a couple years as I studied the VA Tech enology classes. In 2014 I started the Cidery after studying the chemistry of apples at VA Tech. I continue making and serving cider and wine today in our barn on property. My main focus has become to specialize in cider and port-style/dessert wines.
Allison Lange, Head Brewer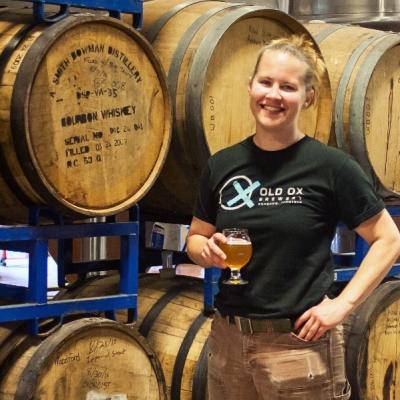 If making great beer is a science, why not turn to a scientist? Allison Lange graduated in genetics from Dartmouth and then got a PhD in biochemistry from Emory. "I spent a lot of time with yeast at grad school," she recalls. It was actually her student experience planning grad school happy hours that introduced her to craft beer; when she volunteered to go buy the beer she was determined to find "the good stuff." Before joining Old Ox, Lange was director of brewery production and lead brewer for 3 Stars Brewing Company in Washington, D.C. and brewer and beer scientist for Port City Brewing Company in Alexandria, where she put her microbiology skills to work setting up a brewing lab. Lange says her approach is analytical, with a particular focus on process. "A faulty process can ruin a great recipe; a well thought out process can improve any beer."
Katie DeSouza Henley, Winemaker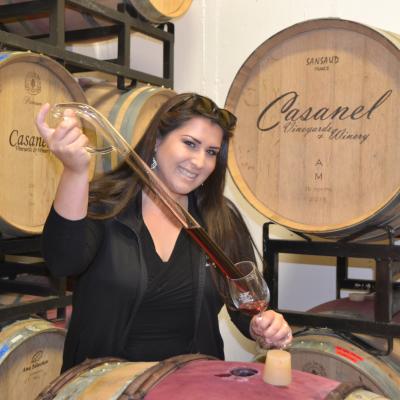 When Casey and Nelson DeSouza established a winery on 42 acres of gorgeous rolling hills south of Leesburg in 2006, it didn't mean a free ride for youngest daughter Katie. The Virginia Tech grad started as a dishwasher – "a crystal technician" she calls it – before graduating to Tasting Room Manager under the tutelage of older sister Anna. At the same time, she worked in the vineyard, learning about pruning, trellising and harvesting. Those years paved the way for her current role as winemaker at Casanel, where her acclaimed creations include Red Spark – the world's first French champagne-style wine made from the indigenous Norton grape – and the elegant and balanced red blend, K2. Katie was featured in a recent episode of the popular PBS show UnWine'd in which she paid tribute to another female icon of Loudoun wine: Jenni McCloud, founder and owner of Chrysalis Vineyard at the Ag District, the leading grower of Norton grapes in the world.
Becky Harris, Chief Distiller & Co-Founder
Catoctin Creek Distilling Company
   
Wine, grains, berries, it matters not. If there is a fruit, vegetable, tuber with starch or sugar in it, you can bet that Becky Harris will try to distill it.   
A chemical engineer turned chief distiller of Catoctin Creek Distilling Co.,The Virginia Rye Whisky ℠, Becky graduated with honors from the University of Wisconsin, Madison. She worked at companies like Amoco, YDK America, and CIBA, specializing in industrial processes and production systems before her husband, Catoctin Creek co-founder and general manager, Scott, brought the idea of opening a distillery to her in 2009.     
Scott wrote the business plan, Becky applied her knowledge to something she was passionate about, and today they locally source and hand-craft Virginia's most awarded whisky, Roundstone Rye, along with rye-based gin and brandy.  As the current President of the American Craft Spirits Association (ACSA) Board of Directors, Becky proudly encourages new whisky drinkers – especially women – to trust their own sense of taste. 
In her mind, authenticity comes from a rootedness in the entire process of the product from grain to glass. It comes from a commitment to consistency and quality, and a passion for promoting excellence in ingredients and methods. Sustainable, vibrant businesses can thrive when customers value diversity and regionalism in flavor – her hope is to continue to be a part of building that community and forwarding the conversation.
Melissa Hoffman
Pink Boots DMV Chapter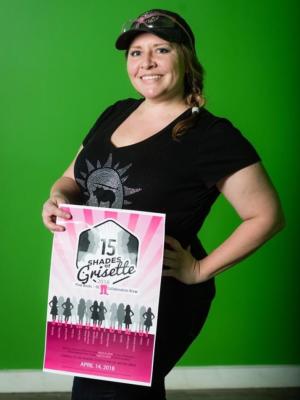 Melissa hails from New Jersey.  If she doesn't mention it within the first few minutes, her hand talking and lack of filter make it pretty obvious.  A former scientist working in big pharma,  she fell in love with craft beer after a mistaken Amazon Prime purchase (do not drink and Prime).  
After several years of home brewing, she started as a brewery assistant at a local brewery, then moved on to Lost Rhino in Ashburn where she managed the cellar and laboratory for over three years.  
She is proud to be a past co-leader for the Pink Boots DMV chapter, an amazing organization supporting women in the craft beverage industry. 
When Covid-19 hit, she was one of the many women who had to choose family over career.   She is very much looking forward to getting back into the cellar and making a mess...and award winning beer.  For now, she spends her time yelling at chrome books and cruising around town in her minivan, shuffling her three kids to activities. 
Currently, you can find her behind the bar at Bear Chase Brewing Company in Bluemont pouring their award winning beer in her bedazzled mask.