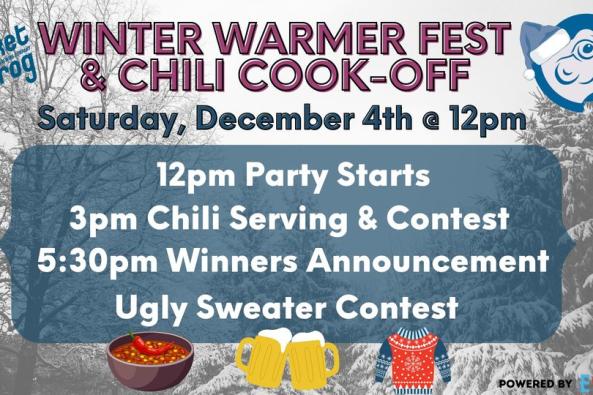 See Photos (1)
Winter Warmer Fest & Chili Cook-Off
22560 Glenn Dr #103
Sterling, VA 20164
Dates: December 4, 2021
Location: Rocket Frog Brewing Company
Time: 12:00 PM to 6:00 PM
Overview

With the absence of our two favorite events at Rocket Frog over the last couple years, we have decided to combine them for one good ole time! We bring our annual Winter Warmer Festival back and combining it with our chili cook-off!

Tickets: 

https://biermi.com/store/rocket-frog/store

 (Select "pick-up" order, you will see the event on the next page).

*Once you purchase your tickets, your names will be populated on a spreadsheet and all you have to do is give your name when you arrive.

The event will start at 12pm with guest beers flowing outside from a tap trailer. A $10 entry fee is required to enter. Two drink tickets come with each entry ticket. Drink tickets are valued at $2.50 each. Beers will be served in 5oz pours. Rocket Frog staple beers will be one ticket. Guest beers and stronger Rocket Frog beers will be 2 tickets each.

The Chili Cook-Off will start at 3pm. Chili service will run from 3-5:30pm, with the winners being announced at 5:30. We are hoping to have some restaurants enter the fray, so it may be a pro-am! We will have a serving station under one tent with volunteers helping to serve in order to keep crowd flow moving.

If you want to enter the chili cook-off, email richard@rocketfrogbeer.com for more information.

The event will largely be held outside.