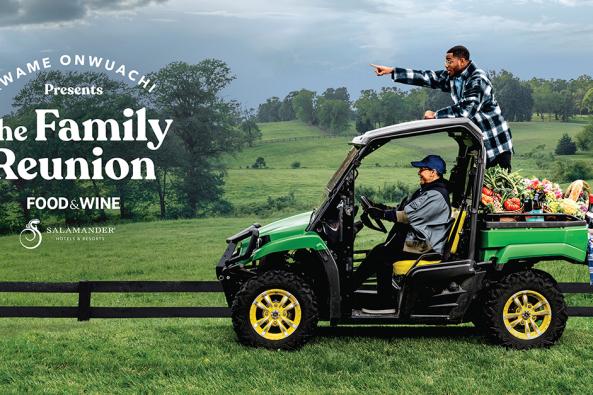 See Photos (1)
The Family Reunion
500 N Pendleton St.
Middleburg, VA 20117
(540) 687-3600
Overview

Award-winning chef and author Kwame Onwuachi is presenting a new, first-of-its-kind food event this summer, inspired by the time-honored family reunions of his ancestors, as well as the culinary and cultural heritage of his Afro-Caribbean roots.

"The Family Reunion," a multi-day celebration of diversity in the hospitality industry, will kick off this August at Salamander Resort & Spa in Middleburg, Virginia, in the state's picturesque horse and wine country.

FOOD & WINE is partnering with Sheila Johnson, CEO of Salamander Hotels & Resorts, to host the inaugural event, which will feature cooking demos, wine tastings, exclusive dinners and discussions with industry leaders. Panel guests include Carla Hall, Nina Compton, Carlton McCoy, Mashama Bailey, Rodney Scott, Gregory Gourdet, Tavel Bristol-Joseph and Pierre Thiam.

In addition to celebrating the Black and Brown cooking traditions that have shaped American cuisine, the event – which runs from August 19th to the 22nd – will showcase the next generation of food and wine professionals currently moving the industry forward.

The schedule is filled with culturally enriching programming highlighted by some of the industry's top talent. Packages and tickets are now on sale for this first-of-its-kind event at https://bit.ly/3vmcvJJ.