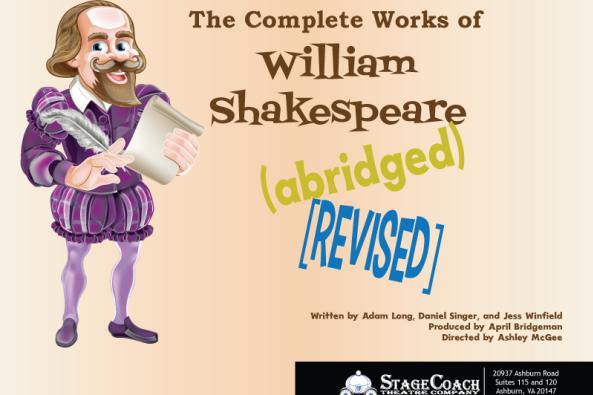 See Photos (1)
The Complete Works of William Shakespeare (abridged) (revised)
20937 Ashburn Road, Suites 115 and 120
Ashburn, VA 20147
(571) 477-9444
Presented By: StageCoach Theatre Company
Dates: 5/9/2021, 5/16/2021, 5/23/2021
Location: StageCoach Theatre Company
Time: 2:00 PM to 4:30 PM
Price: $25 per person or per device for livestreaming
Overview

To celebrate the 20th anniversary of the Reduced Shakespeare Company's classic farce, two of its original writer/performers (Daniel Singer and Jess Winfield) thoroughly revised the show to bring it up to date for 21st-century audiences, incorporating some of the funniest material from the numerous amateur and professional productions that have been performed throughout the world. THE COMPLETE WORKS OF WILLIAM SHAKESPEARE (ABRIDGED) is one of the world's most frequently produced plays and has been translated into several dozen languages. Featured are all 37 of Shakespeare's plays, meant to be performed in 97 minutes, by three actors. Fast paced, witty, and physical, it's full of laughter for Shakespeare lovers and haters alike.

Performances are scheduled for May 8, 9, 15, 16, 22 & 23, 2021 - Saturdays at 7pm and Sundays at 2pm.

All performances are available for viewing in-person at the theater in Ashburn or via livestream. 

Doors open at 1:30pm. Show begins at 2:00pm. There will be a 20 minute intermission

$25 per person or per device for livestreaming
Masks are required when inside the building. COVID safety protocols are observed.