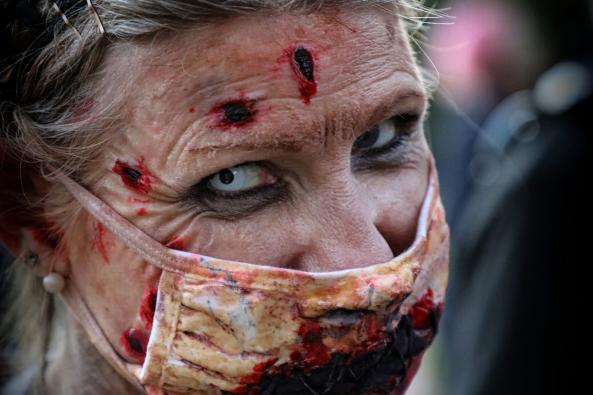 See Photos (1)
Shocktober Virtual Scare-Through
601 Catoctin Circle NE,
Leesburg, VA 20176
(703) 777-1939
Presented By: The Arc of Loudoun
Dates: October 23, 2020 - October 31, 2020
Recurrence: Recurring weekly on Friday, Saturday
Location: The Arc of Loudoun
Time: 9:00 PM to 11:00 PM
Overview



SHOCKTOBER 2020: THE HAUNT. COMES. HOME.

Can you make it through this year's All-Virtual Shocktober?


LEESBURG, Virginia, September 15, 2020— For the first time in its 10-year history, Shocktober, The Arc of Loudoun's largest fundraising event of the year, is available virtually to Haunt Fans around the world.


"The Arc of Loudoun's vision is to provide a lifetime of opportunities for people with disabilities, and we rely on the income that Shocktober generates each year to bring that vision to life—so the thought of having to cancel was truly scary", shared Lisa Kimball, CEO of The Arc of Loudoun. "With these virtual options, our community, as well as Shock Fans around the world, will still experience the thrill of Shocktober while supporting our life-transforming work. Once they recover from this year's Shocktober fright, we hope everyone will begin planning their 2021 in-person visits to Carlheim Manor in Leesburg, Virginia."


Shocktober virtual experiences include live-streaming celebrity events, online Shocktober Haunt Classes, a "Why We Shock" fundraising campaign, and much more.


LIVE-STREAMING CELEBRITY EVENTS: In partnership with VIDI SPACE, a streaming platform co-founded by Elizabeth Saint (of Ghosts of Shepherdstown), Justin Narragon, and Nick Groff (of Paranormal Lockdown, Ghost Adventures and Ghosts of Shepherdstown), Shocktober will air celebrity guest "Scarethrough" experiences on October 23, 24, 30 and 31 from 9pm to 11pm, plus a bonus episode, "Ghost Hunt at Carlheim Manor". Fans around the world are encouraged to host small, private Shocktober Haunt Parties ("Mask-erades" in true 2020 fashion), and experience Shocktober from the safety of their own homes. Nikki Blonsky of Hairspray and Nick Groff are confirmed, and ticket prices start at just $10.


SHOCKTOBER HAUNT CLASSES: Fans who want a deeper-dive into the world of Shocktober can take virtual Shocktober Haunt Classes to learn how to bring the haunt experience home. These online classes will be taught by Shocktober's talented haunt experts including how to transform yourself into a horror character, distress costumes, create haunt décor, mix monster cocktails, and cook-up killer appetizers. Prices range from $20-$80 per class.


"WHY WE SHOCK" FUNDRAISING CAMPAIGN: The Arc of Loudoun is asking our local community and Shock Fans around the world to financially support its mission by joining the "Why We Shock" fundraising campaign. In addition to helping The Arc of Loudoun, participants can win prizes such as Shocktober merchandise, a free subscription to VIDI SPACE for one year, gift certificates from Loudoun County restaurants, private paranormal investigation experiences, and much more. Each person who donates to The Arc of Loudoun through the "Why We Shock" campaign will receive an "I Shocked for The Arc" certificate.


SHOCK F.E.A.R. CARD: The Shocktober F.E.A.R. Card (Food. Entertainment. Activities. Relaxation.) can be purchased for $20 online and includes free stuff and "freaky" discounts from Loudoun County restaurants, wineries, breweries, places to stay, and special experiences. The Shocktober F.E.A.R. Card can be used through September 30, 2021. Offers and discounts will be regularly updated and can be viewed at Shocktober.org.


Since its inception in 2010, Shocktober, a PG-13 experience through a 4-story, 150-year-old mansion and its basement, has generated over $3.5 million in revenue for The Arc of Loudoun, and gained international notoriety including being named #5 scariest haunted attraction in the country by Travel and Leisure; Ordinary Awards' Travel Attraction of the Year by the Virginia Restaurant, Lodging, & Travel Association; top Haunted House in Virginia by Cosmopolitan and Parade; and Loudoun's Favorite Event by Loudoun Now readers.


Additionally, Shocktober has increased hospitality revenue in the region by driving tens of thousands of haunt enthusiasts to Leesburg and has provided volunteer opportunities for hundreds of Loudoun residents. "Being a member of the Shocktober Family has changed the course of many high school students' lives as they've experienced the power of reaching out and giving back, and as they've honed their skills in acting, makeup, costuming, and major event planning and execution," reflected Kimball.


Nikki Blonsky added, "I am so excited to be a part of Shocktober this year! It's amazing how, even during the pandemic, we are able to pivot and bring this experience home for everyone and keep the fundraising going. Combining horror with charity is right up my alley! The Arc of Loudoun is an organization I hold close to my heart, and I am proud to be able to help in any capacity."


Visit Shocktober.org to purchase tickets, Shocktober merchandise, and to learn more information. #shocktober, @shocktoberhaunt, #carlheimmanor,



About The Arc of Loudoun

Founded in 1967, The Arc of Loudoun advocates for, educates, serves, and supports people with disabilities and their families, serving more than 6,000 people each year including people with disabilities, their families, caregivers, educators, advocates; Arc volunteers; and members of the law enforcement, first responder and judicial system communities. Through its five primary programs—Ability Fitness Center, A Life Like Yours (ALLY) Advocacy Center, Aurora Behavior Clinic, The Aurora School, and Open Door Learning Center preschool—The Arc of Loudoun strives to bring about a just, equitable world for people with disabilities. To learn more, visit thearcofloudoun.org.


About VIDI SPACE

Elizabeth Saint (of Ghosts of Shepherdstown), Justin Narragon, and Nick Groff (of Paranormal Lockdown, Ghost Adventures and Ghosts of Shepherdstown) co-founded VIDI SPACE as a streaming platform for unique programming of acquired and original content. VIDI SPACE offers access to their full library at a monthly or annual fee. Rental and purchase options are available on select content as well as a pay-per-view (PPV) option every Friday when they premiere new content live with Watch and Chat parties. VIDI SPACE began as an online platform for niche genres in horror, haunting, paranormal, documentary, and science fiction. Since its launch in 2018, it has evolved into a network dedicated to showcasing independent filmmakers in all genres - a SPACE for indie content creators to be SEEN. In February 2020, the first annual VIDI SPACE FILM FESTIVAL (VSFF) held in Reston, VA received submissions from over 22 countries worldwide. The platform has free downloadable applications on iOS, Android, tvOS (Apple TV), Android TV, Amazon Fire TV, and Roku.


About Nikki Blonsky

Nikki Blonsky is an American actress best known for her starring role as Tracy in the 2007 film Hairspray. The role earned her several prestigious award nominations, including a Golden Globe nomination. She has also starred in movies such as Queen Sized, a Lifetime original movie, and ABC Family original series, Huge and Geography Club. Most recently, Nikki has launched her own podcast, Nikki Nights, where she talks with celebrities and industry professionals about current issues, quarantine, pop culture and anything else on their minds!