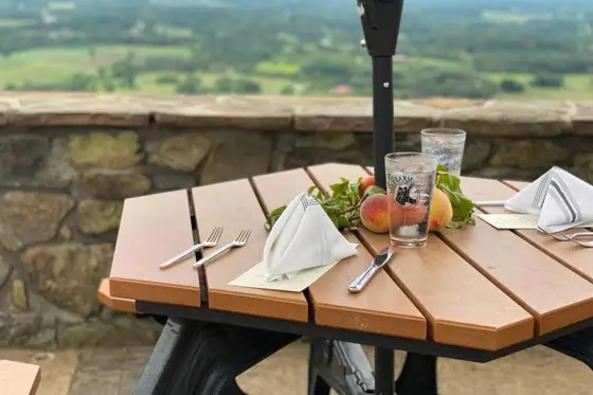 See Photos (1)
Peach Farm Dinner
18701 Foggy Bottom Road
Bluemont, VA 20135
Presented By: Dirt Farm Brewing
Dates: August 18, 2022
Location: Dirt Farm Brewing
Time: 7:00 PM to 9:00 PM
Overview

Celebrate peak peach season with us! Join us for an all-inclusive farm-style beer dinner on the mountain as we celebrate summer's bounty. Dine al fresco on our patio, with panoramic views of the Loudoun Valley, while enjoying a farm fresh dinner created by Chef Justin Garrison.

Each course will incorporate the freshest seasonal, hand-picked produce from Great Country Farms and locally sourced meats.


MENU:

Welcome Beer- 'Som Peach Ale

First Course - Peach Ménage à Trois | Prosciutto | Goat Cheese Crostini | Blackened Shrimp

Second Course - BBQ Chicken Peach Curry | Basil-Peach Oil | Sticky Rice | Carrots | Aromatics

Dessert Course - Peach Tempura | Peach Custard | Jalapeno-Honey Drizzle


$72 per person, all-inclusive. 21+ only. Reservations required.


If weather permits, this will be an outdoor event. *All ticketed events are nonrefundable. Dirt Farm Brewing reserves the right to reschedule or cancel an event due to circumstances outside our control. If this event occurs, will we offer to transfer your ticket(s) to another event.