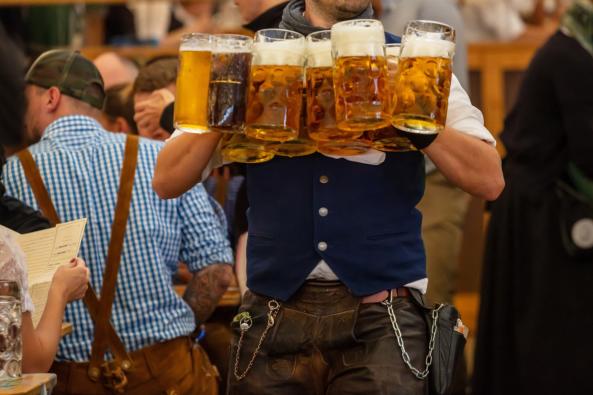 See Photos (1)
Oktoberfest Weekend at Flying Ace Farm
40950 Flying Ace Lane
Lovettsville, VA 20180
(540) 579-2007
Overview

Join us Friday, Saturday & Sunday (September 24th-27th) for Oktoberfest at Flying Ace Farm!

FRIDAY, SEPTEMBER 24TH

-LIVE MUSIC: Join us 5:30PM-8PM for live music by The Ghost Pepper Band Featuring Bohemian Rhapsody Sing Along! This Sing Along is a yearly tradition in Lovettsville and we are honored to host it this year!

SATURDAY, SEPTEMBER 25TH

- WEINER DOG RACES: Do you have a fast Weiner Dog?! We'll be hosting Weiner Dog Races starting at 2pm. Entrance is FREE for anyone with a Dachshund dog. To enter, please email Delia at info@flyingacefarm.com by September 20th. First, second, and third place winners get cookie necklaces courtesy of The Hive Bakeshop!

- LIVE MUSIC: Join us 4pm-7pm for live music by The Gary Smallwood Band!

- STEIN HAUL & HOIST CONTEST: Do you have what it takes to hoist and haul as many beer filled steins as you can without spilling in 60 seconds on a 30 foot course? The most carried without spilling wins the honors of Flying Ace Farms first annual Stein Haul & Hoist Winners! We will have both a men's and a women's contest. The contest will begin at 5pm. To enter, please email Delia at info@flyingacefarm.com. Free to participate.

SUNDAY, SEPTEMBER 26TH

We will also have Pony Rides and Face Painting available for the kiddos!

LIVE MUSIC: Join us 2pm-5pm for live music by The Blaskapelle Alte Kameraden Band, a 9 piece polka band, featured in our Bier Garden at our ticketed German Buffet Oktoberfest event.

LIVE MUSIC: Join us for live music by the The Chris Timber's Band, 5pm-8pm, on our main stage.

ALL WEEKEND LONG:

- We will be offering a discount for anyone who dresses up in Lederhosen.

- Enjoy 25% OFF TO-GO canned beers

- We will have Flying Ace's Spent Grain Dog Treats, the main ingredient used in our beer making) for purchase, hosted by The Hive Bakeshop, located in Lovettsville.