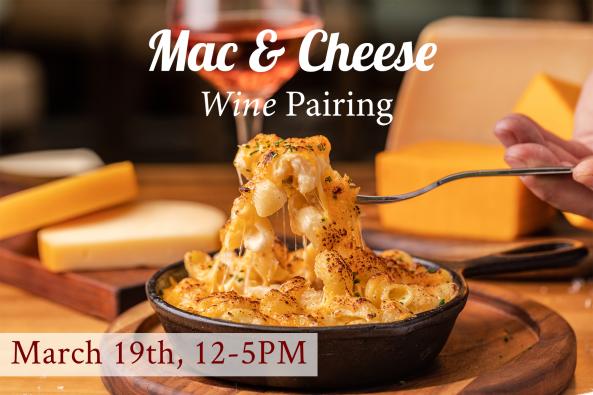 See Photos (1)
Mac & Cheese Wine Pairing
35246 Harry Byrd Hwy #190
Round Hill, VA 20141
(540) 338-1144
Overview

Come experience wine and cheese in a new way with our macaroni & cheese wine pairing on Saturday, March 19th!

This is a self-guided pairing of Virginian wine and four gourmet mini mac 'n' cheese bites!

Each Mac & Cheese pairing comes with a healthy tasting of a wine, along with a pairing guide. Tickets are $25 per guest ($21 for Black Label Club Members).

Your pairing will include:

Cherrywood Smoked Salmon With a Chardonnay Cheese Sauce
Cabernet Reduction Glazed Serrano Ham With Cabernet Havarti Sauce
White Wine & Ghee Poached Portobello With Chardonnay Asiago Sauce
Fire Roasted Cherry Tomato & Peppered Arugula Creamy Goat Cheese Sauce

Enjoy an extra-cheesy afternoon with us!