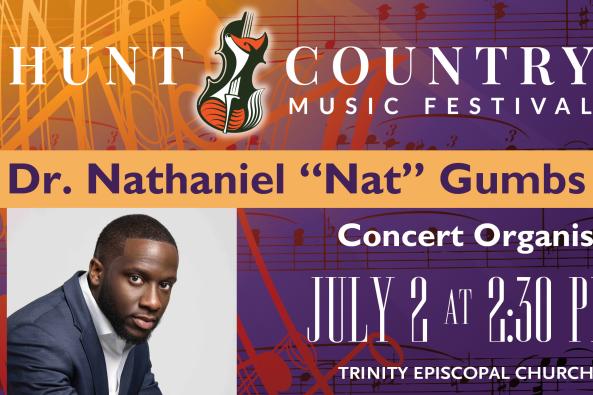 See Photos (1)
Dr. Nathaniel Gumbs Organ Recital and Gospel Sing
9108 John S. Mosby Hwy.
Upperville, VA 20184
(571) 271-4482
Presented By: Middleburg Concert Series
Dates: July 2, 2023
Location: Trinity Episcopal Church
Time: 2:30 PM to 3:45 PM
Price: Tickets: $40; Hunt Country Music Festival Pass: $100-$235
Overview

Dr. Gumbs has been director of chapel music at Yale University for the past six years and was named in the "Top 20 Under 30" by Diapason Magazine for his achievement in organ performance and church music. Dr. Gumbs will perform a solo organ recital of classical music by African-American composers, and other works by new composers. He'll be joined by area singers to lead a Gospel Sing featuring moving music that will uplift and inspire. This is the closing concert for the Hunt Country Music Festival which takes place from June 30 to July 2 and offers an eclectic mix of music, delicious food, wine and warm hospitality!