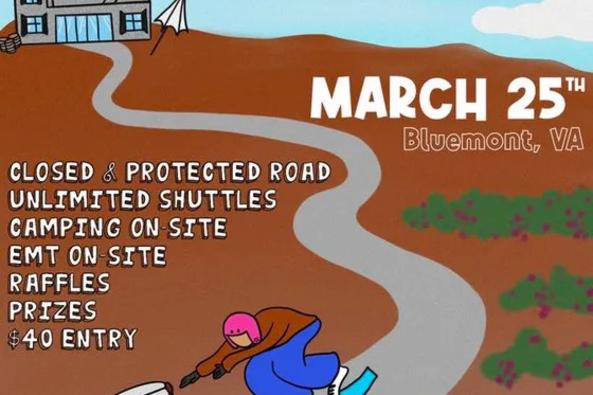 See Photos (1)
Dirt Farm Freeride
18701 Foggy Bottom Road
Bluemont, VA 20135
Presented By: Mark Anthony Stapperfenne
Dates: March 25, 2023
Location: Mark Anthony Stapperfenne
Time: Mar 25 @ 9:00 AM EDT to Mar 25 @ 6:00 PM EDT
Overview

Register today ! Registration for athletes is $55 PayPal Mark Anthony(Mstapperfenne@gmail.com) See more details below.

The first ever Dirt Farm Freeride is a Downhill event.The event will take place in rural Virginia, on a steep winding roadway, going through Vineyards and a farm. Athletes start their descent in the parking lot of Dirt Farm Brewing. Dirt Farm Brewing is excited to bring the Downhill Community onto their grounds nestled on the Blue Ridge Mountainside.

The location offers panoramic views, a grille team serving food, on-site parking, and a tap room serving farm raised BEER!

SATURDAY - MARCH 25

SCHEDULE:

9am - Athlete check-in Begins at top of hill

9:30am- Riders meeting at the shuttle

10:00am -5:00pm - Descents

5:15pm-6:00pm- Raffle drawing, Prizes, Sponsors, Group Photo

Athletes will receive a wristband for unlimited shuttles, and 3 raffle tickets.

Additional opportunities for prizes will be announced on event day.

Additional raffle tickets will be available for purchase.

Spectating is no charge.Spectators are welcome to ride the shuttles down to party corner.Camping on site Friday and Saturday night is included for athletes and friends of athletes who support the local businesses on event day(BUY FOOD!! BUY BEER!!) LOOKING FORWARD TO SEEING YOU THERE! Some formalities on safety;-All athletes are required to register and sign waivers on-site.-All athletes are required to wear Helmet, Gloves and closed toed shoes. -The road will be lined with hay bales and spotters to ensure a safe descent to the bottom.-Athletes under 18 require a parent or guardians signature at registration-EMT's are on site for emergencies-This level of hill requires athletes to be experienced in slowing down and stopping while moving above 20 miles per hour.