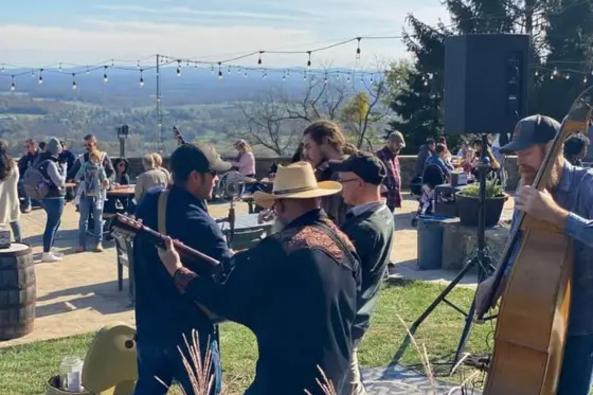 See Photos (1)
Bluegrass, Brews & BBQ Ribs
18701 Foggy Bottom Road
Bluemont, VA 20135
Presented By: Dirt Farm Brewing
Dates: August 27, 2022
Location: Dirt Farm Brewing
Time: 7:00 PM to 10:00 PM
Overview

Join us for our first ever, Bluegrass, Brews & BBQ event at Dirt Farm Brewing! The Short Hill Mountain Boys will be bringing the Bluegrass, we've got the farm fresh beer, and Chef Justin Garrison will be firing up the smoker and bringing the BBQ Ribs!


From 7:00 p.m. - 10:00 p.m. enjoy one of our favorite local bands, The Short Hill Mountain Boys! Get ready to tap your feet and get down to the true roots of bluegrass that these boys will be serving up. It's gonna be a hootin' and hollerin' good time, y'all!


The taps will be stocked with some of your favorite Dirt Farm Beer, including our latest seasonal, Sum'er Thorny Blackberry Ale! Our blackberry beer starts with a golden ale base, and we add nearly 60 pounds of freshly-picked blackberries from Great Country Farms for a little color and a whole lot of flavor. Pairs perfectly with sittin' back, kicking your boots off and enjoying some BBQ Ribs and Bluegrass!


Chef Justin will be offering a plate stocked full with BBQ Ribs and special sides! Dinner will be served from 6-8pm and will only be available to ticket holders.


BBQ Menu:
-$26 per plate. Includes event admission.
Half Rack of Blackberry Ale BBQ Glazed Ribs
Chilled Mexi Street Corn
House Cut French Fries


General Admission: $10 per person
BBQ Plate + Admission: $26 per person


Ticket Holders are welcome to come up early, gates open at 6:00 p.m.
Live music will be set up overlooking the patio, seating will be available on our large patio or in our spacious lawn area. Blankets and chairs are welcome, but coolers/outside alcohol/outside food are strictly prohibited. Free general admission for children 10 and younger. In the event of rain, music will be cancelled, but the Beer + BBQ is still on! Tickets are non-refundable. Please note, if you are purchasing a "BBQ Plate + Admission" ticket you do not have to purchase the GA ticket.


CSB Members receive a 15% discount on ticket price. To learn more about our membership, visit our website here: www.dirtfarmbrewing.com/csb-membership/


Our taproom will be closing early for this private event, so if you want to stick around you must purchase a ticket! Taproom hours of operation are 11:00 a.m. - 6:00 p.m. Last call at 5:30 p.m. Gates open for the event at 6:00 p.m.


FAQs:
Q: What if I buy a ticket and change my mind? Or can't go?
A. We need to ensure that, at the least, Dirt Farm is compensated for the band, time, and event extras. There will be no refunds available. Why not pass the ticket to a friend?
Q: Do I have to bring my printed ticket to the event?
A: Nope! We've gone digital and can easily check you in with the name you used to purchase your ticket!
Q: Do I have to have a ticket to come to the brewery for this event?
A: Yes, this is a private, ticketed event. All guests are required to have purchased a ticket.
Q: What if I want to bring my child?
A: No worries, children are welcome as long as they remain seated with your group at all times.
Q: What if there is rain in the forecast?
A: If there is rain in the forecast, the band will not be playing, but the beer and BBQ are ON! Come on up, and enjoy an evening of fun on the mountain!