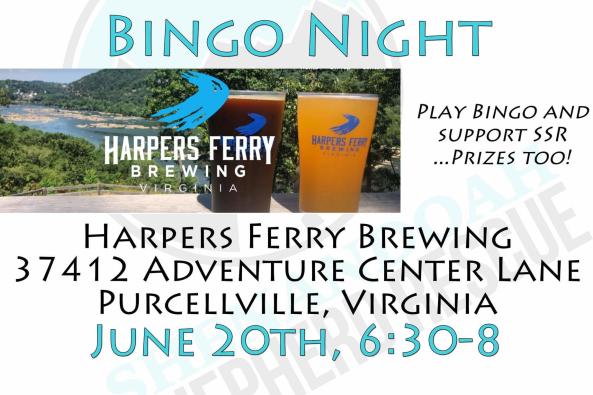 See Photos (1)
BINGO for SSR
37412 Adventure Center Lane
Purcellville, VA 20132
Presented By: Shenandoah Shepherd Rescue
Dates: October 17, 2022
Location: Shenandoah Shepherd Rescue
Time: Oct 17 @ 6:30 PM EDT
Overview

Join SSR volunteers for something fun, BINGO! Harpers Ferry Brewing (27412 Adventure Center Lane, Purcellville, VA) will have bingo at their location from 6:30-8 and proceeds go to SSR. Come have some brews, enjoy the beautiful views, and play BINGO, too, to help SSR.

Weather permitting, since dogs must remain outside, all dogs attending will be listed just prior to the event (click on Animals Attending link on our website, https://www.shenandoahrescue.org/info/events)

Your attendance is your acceptance of your potential exposure to COVID.