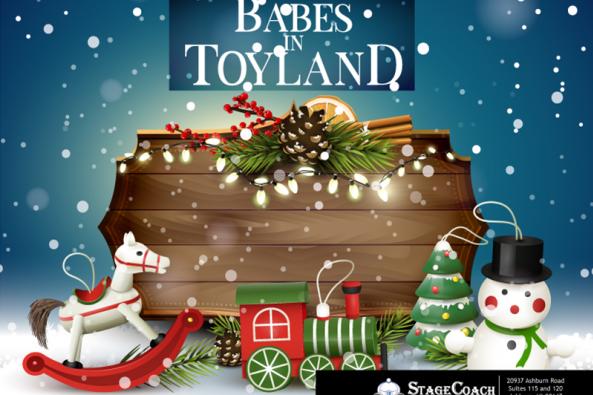 See Photos (1)
Babes in Toyland
20937 Ashburn Road, Suites 115 and 120
Loudoun, VA 20147
(571) 477-9444
Presented By: StageCoach Theatre Company LLC
Dates: 12/11/2021, 12/18/2021, 12/20/2021, 12/21/2021, 12/22/2021, 12/23/2021
Location: StageCoach Theatre Company
Time: 7:00 PM to 8:15 PM
Price: $15
Overview

Mother Goose Land is all astir over the rivalry between miserly, mean-hearted Uncle Barnaby and young, handsome, gentle Alan for the love of Mistress Mary Quite Contrary. Getting in the act are Jack and Jill, Little Bo Peep, and many other Mother Goose characters, along with Barnaby's clownish hit men, Roderigo and Gonzorgo. Trying to escape, Alan and Mary have to pass through the dangerous Spider's Forest. Even in Toyland they are not safe, and the fast action and beautiful music continue.

Performances will be held at StageCoach Theatre in Ashburn, VA December 11, 12, 18, 19, 20, 21, 22 and 23, 2021.

Saturdays at 4:00pm and 7:00pm

Sundays at 4:00pm

Dec 20-23 at 7:00pm

Reservations are encouraged. Seats cannot be guaranteed at the door. https://stagecoachtc.com/babes-in-toyland/

Also available via livestream.