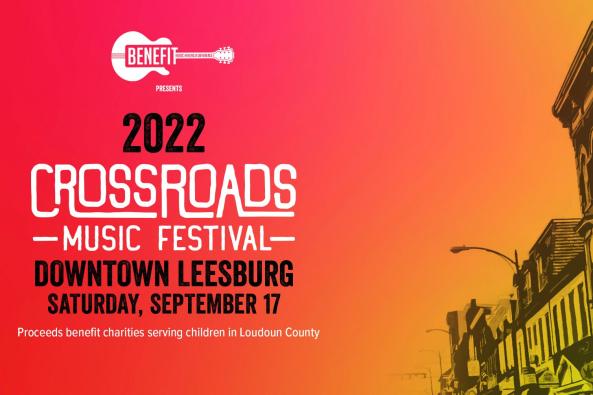 See Photos (1)
2022 Crossroads Musical Festival
25 West Market St
Leesburg, VA 20176
Presented By: Benefit
Dates: September 17, 2022
Location: Town of Leesburg
Time: 5:00 PM
Overview

BENEFIT's Crossroads Music Festival is returning to downtown Leesburg this September with the goal of using music to make a difference. 

Established in 2017, BENEFIT is a coalition of musicians and community leaders uniting people with music to raise funds and awareness for nonprofit organizations serving children in Loudoun County. 

Starting at 5 p.m. on Saturday, Sept. 17, over 25 musicians and bands will be performing original music at multiple venues in downtown Leesburg for BENEFIT's 2022 Crossroads Music Festival. 

Performances will take place at multiple outdoor venues allowing BENEFIT 2022 Crossroads Music Festival attendees to customize their own evening of music entertainment. Each artist will perform a 60-minute set at their designated venue. 

Festival passes purchased online in advance will be $20 and passes bought on-site Sept. 17 will be $30. Passes are not required for entry at any venue participating in BENEFIT's 2022 Crossroads Music Festival. However, proceeds from festival pass sales benefit nonprofit organizations that serve children in Loudoun County.

With purchase of a festival pass, attendees will receive a wristband and a 2022 Crossroads Music Festival T-shirt at check-in. Wristbands will provide attendees access to event-day specials at participating music venues.