The Conche
Milk Chocolate Pumpkin Pie
This holiday season enjoy a delectable and unique pie
created by Santosh Tiptur of The Conche.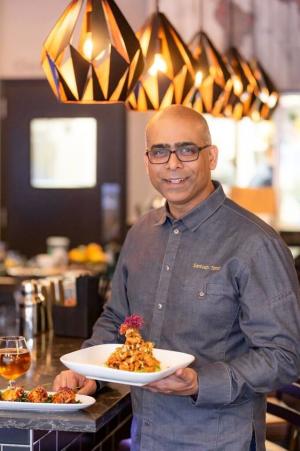 Find the recipe here or see details below.
---
Filling
Ingredients:
Eggs 200g
Egg Yolks 40g
Pumpkin Puree 450g
Heavy Cream 200g
Milk 125g
Sugar 120g
Maple Syrup 90g
Dark Brown Sugar 150g
Salt 1tsp
Vanilla extract 1 1/2 tsp
Cinnamon Powder ½ tsp
Cloves Powder ¼ tsp
Ginger Powder ¼ tsp
Nutmeg Powder ¼ tsp
Method:
Warm the Heavy Cream and Milk and keep on the side.
Whisk in the eggs and egg yolk and combine all the ingredients together and set-aside.
Pie Crust
Ingredients:
AP Flour 380g
Salt 1 tsp
Butter 280g
Water (ICE COLD) 115g
Method:
Cut the butter in small cubes and in a medium size mixer with the paddle attachment, add flour, salt, and butter, mix until crumbly texture and add the ice water slowly and by not over mixing, until the dough comes together.
Refrigerate over night and roll the dough into the pie molds, blind bake at 350 degrees F for 20-25 minutes.
Then pour the pumpkin pie mixture and bake in a preset oven 325 degrees F and bake for 45-50 min.
Milk Ganache
Ingredients:
Heavy Cream 250g
Glucose 25g
Milk Chocolate 360g
Method:
Heat the Cream and Glucose to a boil, pour the hot cream over the chocolate and whisk vigorously until well combined.
---