We've rounded up the top experiences in Loudoun to ensure your weekend is a success! From Mother's Day to dog days, share your fun with us by using #LoveLoudoun on social. 

On Saturday, May 12th, bring your four-legged friend to the Dog Day Celebration at Breaux Vineyards and enjoy contests including largest dog, smallest dog and coolest trick! Treats and watering stations will be available for your pup and judging will take place in the afternoon. This is a free event that's sure to put a smile on your face! What sounds better than sipping vino with your favorite furry friend?!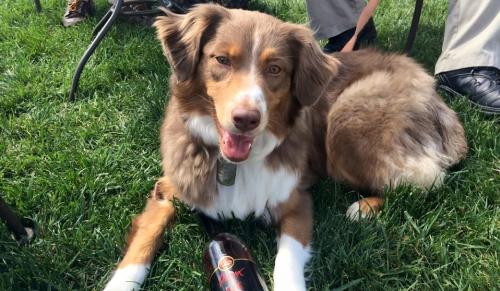 Bring the entire family to Touch-a-Truck at Rock Ridge High School in Ashburn on Saturday, May 12th where children can get up close and personal with some of their favorite vehicles! Kids will love the opportunity to sit behind the wheel, beep horns and meet the people who build, protect and serve our community. Face painting and other activities will be available for all to enjoy! Don't miss this fun, family event featuring emergency vehicles, construction trucks, military vehicles and much more!
Mother' Day Celebrations:
Mother's Day Zip Line at Salamander Resort & Spa – May 11th & 13th
Mother & Daughter Tea & Yoga Workshop at Salamander Resort & Spa – May 12th
Mother's Day Tea at The Stable at Bluemont Vineyard – May 13th
Mother's Day Celebration at 868 Estate Vineyards – May 13th
Mother's Day Dinner at Harriman's Virginia Piedmont Grill –May 13th
Mother's Day Lunch and Mini Photo Shoot at 8 Chains North Winery – May 13th
Mother's Day Brunch at Copperwood Tavern – May 13th
Mother's Day Picnic at Bogati Winery – May 13th
Mother's Day Brunch at Casanel Vineyards – May 13th
Mother's Day Brunch at Shoe's Cup & Cork – May 13th
Mother's Day Garden Party at Tarara Winery – May 13th
Mother's Day Celebration at North Gate Vineyards – May 13th
Mother' Day Brunch at Breaux Vineyards – May 13th
Other Happenings:
Abra Cadavar Murder Mystery Party – May 11th
Cooking Class with Chef Dinah Corley – May 12th
Live Music with Gary Smallwood at Bogati Winery – May 12th
Live Music with Todd Brooks at Two Twisted Posts Winery – May 12th
Music Under the Stars at 868 Estate Vineyards – May 12th
Redskins Read Bookfair at Barnes & Noble – May 12th
Live Music with Brian Sauerwald at Bogati Winery – May 13th