The weather is changing but don't let the coming cold stop you from enjoying a day in Loudoun. 
With the expansion of outdoor seating, Loudoun's wineries, breweries and restaurants are coming up with innovative ways to keep customers warm this winter. Just BYOB- Bring Your Own Blanket- and continue enjoying hand-crafted beverages, special holiday cocktails and dishes from your favorite chefs.
Here we highlight five local businesses that are going just a little bit further to make sure you stay warm this winter. And, we also offer a few tips on buying local to prepare for a night out.
No need to Bring Your Own Blanket to this classy 425-acre winery near Hillsboro; buy a cozy fleece throw on site for $12 a pop to keep you warm. The blankets come in plaid patterns and assorted colors. If that's not enough to keep you warm, the Doukenie Winery has eight wood-burning fire pits surrounded by Adirondack chairs in the patio area overlooking the pond, and propane mushroom heaters in the covered pavilion. If the blankets, fire pits and propane heaters don't keep you warm, a glass of the 2015 Dionysus red blend should do the trick.
This beer-forward Leesburg eatery led the way with outdoor dining during lockdown and continues to offer unique outdoor space this winter, adding a cozy tented lounge with electric heat to the former parking bay on King Street. On November 25th, Thanksgiving Eve, Delirium Cafe USA owner Curtis Allred will also unveil a holiday-themed "Bad Santa" pop-up bar: a secret back-door cellar bar featuring charcuterie-style gingerbread houses, holiday-themed decor and $10 specialty holiday cocktails that include a Run Run Rudolph concoction made from Tequila, cranberry and fresh mint. You can pick up a cocktail at the Bad Santa bar and take it to the outside lounge without having to step inside.
Chef Santosh Tiptur's chocolate-themed restaurant in the Village at Leesburg has expanded its exterior seating with a long, narrow heated tent hung with LED lights to give it an extra festive feel. Chef has also added a Hot Chocolate Flight to the menu: three glasses made from dark, milk and white chocolate. You can add bourbon or whiskey for extra heat and, because The Conche is located in the Village, you are allowed to take cocktails to go. A few yards away in the plaza there will be carolers singing weekend nights near a fire pit by the fountain.
This always innovative brewery has out done itself again. At both the Ashburn and Middleburg outposts Old Ox will be using "Greenhouse" tables – metal frames with heavy duty plastic walls, doors on the side and windows at the top for ventilation, which will cover the outdoor tables in the beer garden and courtyard. Each will have a mini heater inside to keep you extra warm. There is regular outside seating too, a number of firepits and heaters, and various specialty beers such as the Keg Nog, an Imperial Spiced Ale that tastes like egg nog, and a bourbon barrel aged Imperial Stout with hints of coffee, hazelnut and chocolate. The owners are also selling s'mores packs to pair with different beers. "We are very cognizant of restrictions; we want an environment where people can feel safe and still have fun," said Mary Ann Burns, mother of owner Chris.
After seeing personal igloos on the rooftops of hotels in D.C. and New York City, the owners of Wheatland Spring decided to provide that same experience to the guests at their brewery. "They always looked like the perfect spot for a unique and magical evening," brewery owner Bonnie Branding said. "We decided to invest in the highest quality igloos on the market and thus far we have enjoyed tremendous feedback from customers." People 21-plus can reserve these outdoor igloos, which include a 6' table and can seat between four and eight people, depending on how cozy you want to get. The brewery is also taking reservations for its outdoor fire pits and the expansive meadow area, where parties of up to 12 can bring blankets and reserve a secluded spot.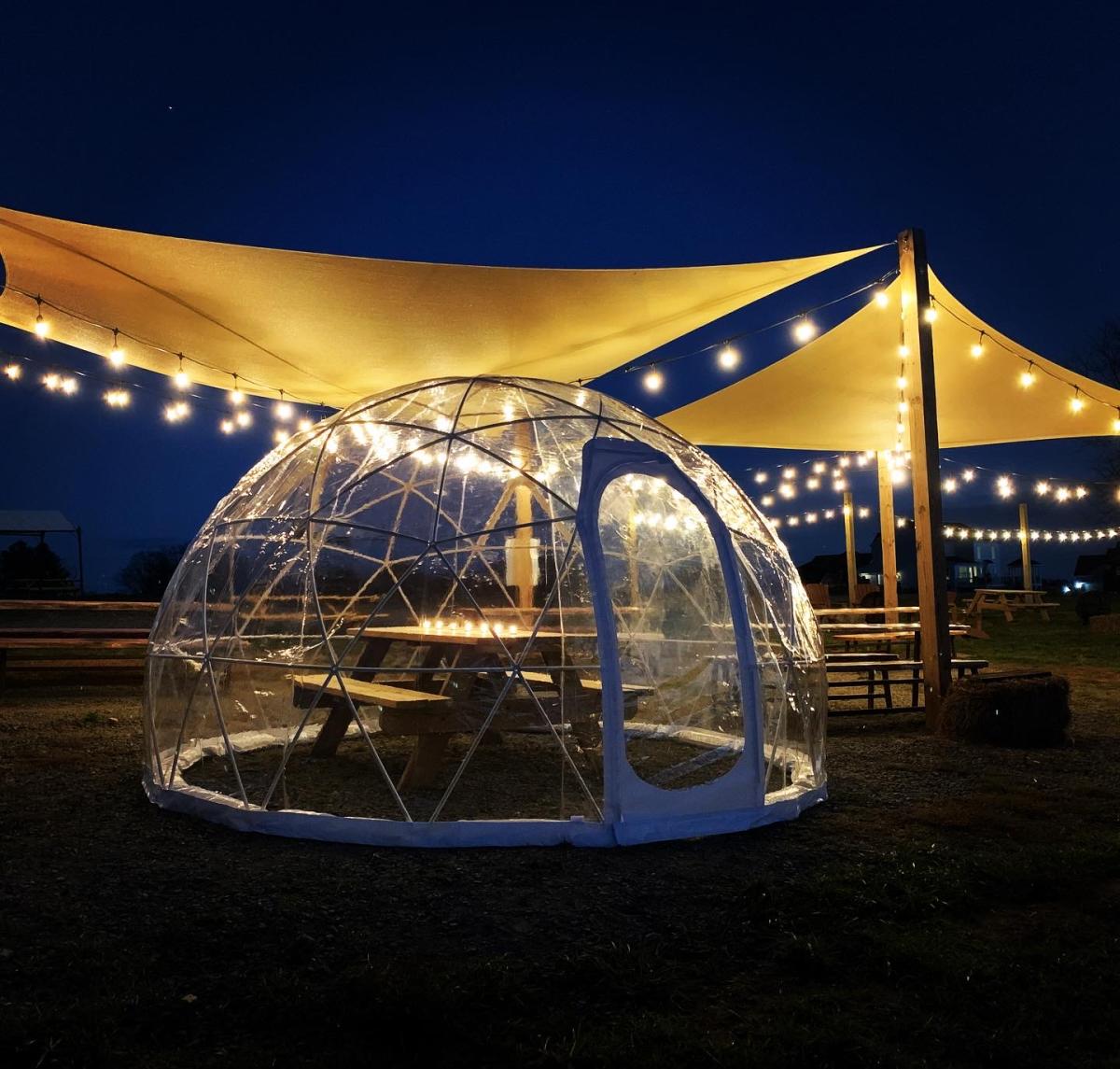 Tips to Stay Warm Outside
Pick up cashmere, Italian wool or Alpaca sweaters and cardigans in various styles at Muz and Rose, a local and sustainable art, jewelry and clothing boutique in Leesburg.
Lovettsville designer Susan Trask hand-dyes alpaca fiber and yarn, along with other fabric, to create gorgeous fleeces and felted scarves – what she describes as "art you can wear." Visit www.earthwindandfleece.com to contact her and arrange a visit.
Keep your hands warm by picking up a pair of vintage winter gloves. Purcellville has multiple vintage clothing stores including Nostalgia Boutique - Silas Redd's 3,000 square-foot shop in a century-old Victorian home that contains three floors of classic clothing from the twenties through the early 1980s.