(The following guest blog was written by Janine Rethy, President & Co-Founder of Mark My World, LLC.)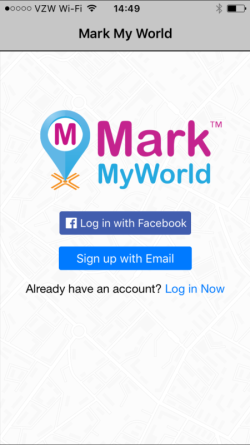 Spring time in Loudoun has always been my favorite time of year. Exploring the county around me while hiking or biking and enjoying the charming towns, unique local restaurants, wineries and breweries makes it feel like a getaway vacation. My family and friends all have favorite spots that we enjoy every year, but we also love discovering new places and sharing our experiences with each other.
That sharing of new experiences led my partner and I to create the Mark My World App which allowed us, and now you, to Mark all of the places we have been to, or would like to visit, in Loudoun and around the world. Instead of writing down places on scrap paper or trying to remember the name of that place that has your favorite meal, you can use Mark My World to add Marks, create itineraries, add notes and share it all with your friends.
To celebrate the beginning of my favorite season in Loudoun, we created an Itinerary to share
with you some of our favorite places. It's the #UltimateSpringDayInLoudoun.
We love starting off our Ultimate Spring Day in Loudoun with a hike on the Appalachian Trail to Bears Den in Bluemont with the magnificent views of the valley and then rewarding ourselves with a visit to Twin Oaks Winery for good wine, food and music.
Another great way to start the day is with a bike ride down the Washington and Old Dominion Trail, a 45 mile trail on the path of the old railroad.  The trail begins in historic Purcellville where you can park your car, bike as far as you feel, and come back to treat yourself to lunch or dinner on the patio under the trees at  Magnolias at the Mill.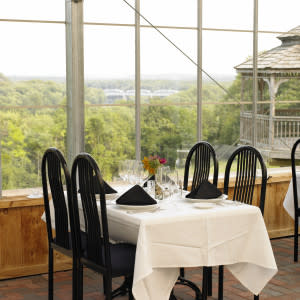 You can also park in downtown Leesburg on King Street (marked on the map), enjoy coffee and a fresh scone on the front porch at King Street Coffee before heading off on the trail to Paeonian Springs where you have to stop by Vino 9 for some BBQ and to stock up on some local snacks and wine.
If hiking or biking isn't quite your thing, you can never go wrong with a leisurely stroll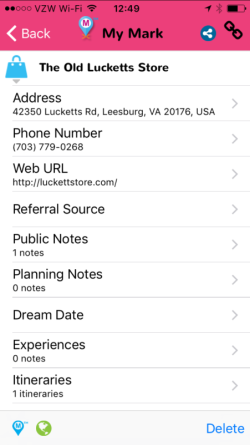 in Downtown Leesburg with a pit-stop at Shoe's Cup & Cork to have a local and organic breakfast in the secret garden while playing a quick game of bocce ball. Once you've had your coffee, head to the Village of Lucketts and shop at the famous Old Lucketts Store featuring some of the best antiques in the region. Continue up picturesque Route 15 to Town of Lovettsville for a delicious meal at Market Table Bistro or The Restaurant at Patowmack Farm.
Click here to see all of our Marks for the #UltimateSpringDayInLoudoun and download the Mark My World App to start building your own itineraries and adding your own marks. Share your favorite seasonal activities by using #UltimateSpringDayinLoudoun Happy Spring!