Our trip down Route 50 (the John S. Mosby Highway) heading west continues into the town of Middleburg. I included the image of the entrance sign for a reason: we hear from lots of visitors that they like the ride to Middleburg as much as they like the town itself. Its a supremely picturesque drive, past rolling horse farms, polo fields, vineyards, and along the iconic stacked stone fences. Its very European in a way, as you go from rural countryside to townscape from one moment to the next.
But definitely press on, and take in the town. You'll discover the circa 1787 capital of Virginia Horse Country. Its a movie-set streetscape of 18th and 19th architecture. There's lots of  one-of-a-kind boutiques and great dining establishments. Its also haunted by spirits of history, from Jackie Kennedy Onassis to F. Scott Fitzgerald to the Gray Ghost himself, John Mosby. Its also home to Market Salamander, a gourmet market and restaurant that offers some great made-to-order dishes (try the crabcakes!).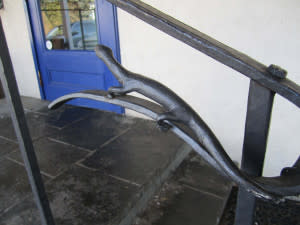 Market Salamander is also full of great architectural details. I found this one, a wrought-iron salamander, in the railing on the steps at the back entrance. You should definitely go in, and check out the dining room, which was originally the building's front porch. Its now enclosed, and made to look like the exterior of a French bistro. And look up, there's even clouds on the ceiling. Its a great place to enjoy the great food and relax before you head out. Oh, and one more thing.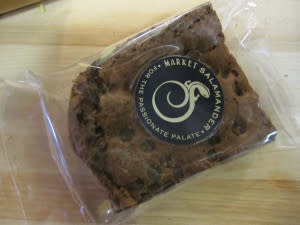 Do. Not. Miss. The. Brownies!