Summer is here and the urge to get out into the fresh country air has never been stronger. Here are three great scenic Loudoun drives to clear the traffic in your head.
Drive One: Snickersville Turnpike (15 miles) Follow this historic Virginia byway (734) over rolling foothills and across Goose Creek and its tributaries from the historic Village of Aldie on Route 50 to picturesque Bluemont on the slopes of the Blue Ridge Mountains. Only 15 miles, the route was traversed by George Washington and the scene of skirmishes during the Civil War. From relatively low-lying Aldie with its famous early 19th Century mill, the road climbs past stone-fenced fields, horse farms and 19th Century mansions, flattening out a little near Philomont, before rising again. Turn left just before Bluemont on Foggy Bottom Road (626) to visit Great Country Farms as well as scenic Dirt Farm Brewing and Bluemont Vineyard – both on the mountainside and offering stunning Virginia landscape views. Bluemont itself, founded as Snickersville in 1824, was once an affluent mountain retreat from DC, last stop on the W&OD railway. When the train went away in 1939 the town fell into decline, but 80 years later it's thriving again. Pop into Bluemont General Store for an ice cream, walk past the gorgeous Victorian-era homes and then take Highway 7 five minutes west to Bear's Den on the Appalachian Trail for spectacular west-facing views of the Shenandoah Valley. On the other side of Blue Ridge Mountain Road is popular brewery Bear Chase. Since you're driving, order a fruit juice or a soda and simply soak up the fresh air and panoramic views.
MAP: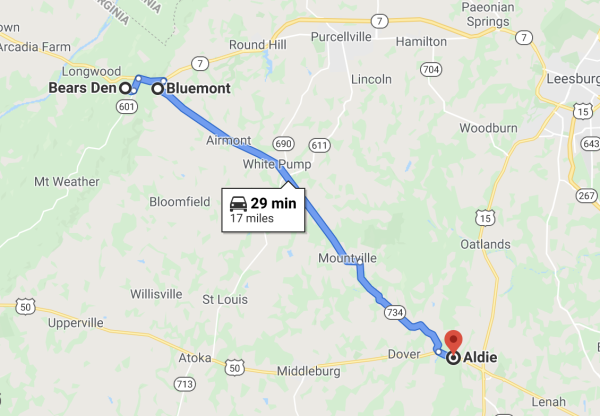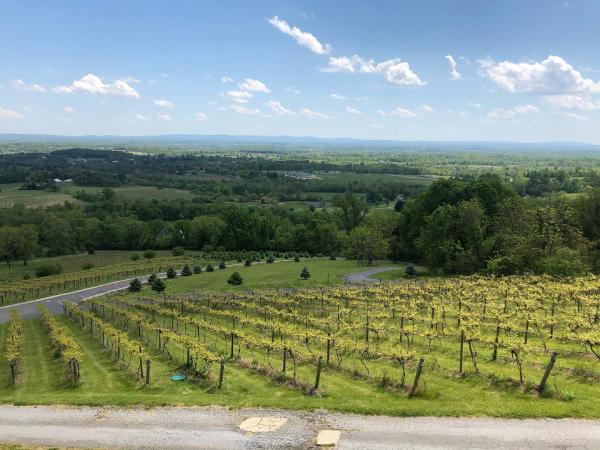 Drive Two: Back Roads & Mountain Views (28 miles) Pack a picnic and from Leesburg follow Route 7 west toward the Blue Ridge Mountains. Take the Route 9 Exit and then Clarke's Gap (662) to the village of Waterford, founded 1733, a National Historic Landmark comprising of dozens of immaculately preserved colonial and Federal red brick homes. Buy flowers or eclectic vintage items from the Waterford Corner Store Studio. Past the Waterford Mill on Catoctin Creek, turn right onto Milltown Road, then left onto dirt road John Wolford, passing Wheatland Spring Farm and Brewery just before Berlin Turnpike (287). Turn left to reconnect with Route 9 West (Charles Town Pike), which takes you to Hillsboro, birthplace of the mother of the Wright brothers. Pick up fresh produce, sandwiches and a coffee at Stoneybrook Farm Market and continue west. When the road forks, take the right on Harpers Ferry Road, and a few miles on, to the left, is the lakeside 868 Estate Vineyards and Grandale Vintner's Table – its farm-to-table restaurant. Lay out your picnic lunch at tables on the lawn, views of lush mountains all around.
MAP: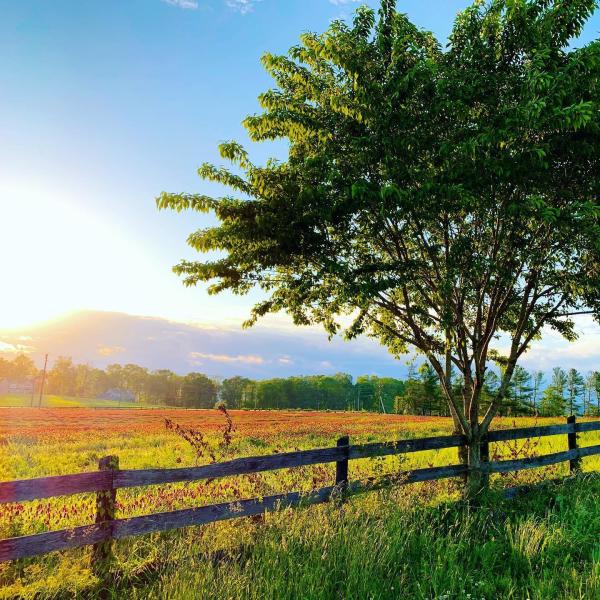 Drive Three: Exploring Horse & Hunt Country (25 miles) Follow Route 50 West from Aldie toward Middleburg – vineyards, horse farms and stone-fenced fields on either side. Middleburg, founded in 1728, is "the capital of horse and hunt country." Get a coffee to-go at the aptly named Cuppa Giddy Up, and stroll past the historic Red Fox Inn, where Jackie O, a member of the local fox hunt, frequently stayed. Continue West on 50 (passing the National Sporting Library and Museum) and turn right on St Louis Road, then left on dirt road, Welbourne. Welbourne B&B, a working horse farm, was established by the founder of the Upperville Colt & Horse Show- the oldest horse show in the country. Continue to the historically African American village of Willisville, recently added to the National Register of Historic Places, and then loop around to Unison, another scenic horse country village, on dirt roads 719 and 736. End your trip with a soda pop and a sandwich at the historic Philomont General Store, established 1913.
MAP: