Have you ever wondered what it took to create Catoctin Creek Disitilling Company in Purcellville? Scott Harris opens up about his journey from government contracting to opening one of the most popular spots in Loudoun! Read his story as he reflects on the last six years:
Wow.  Six years.  I can hardly believe it.  Time flies so quickly.
Six years ago, I was sitting at my desk in a windowless office, underneath the unflattering fluorescent tubes of a Fairfax-based government contractor.  I was working on the sixth revision of a Powerpoint package--my boss was ridiculously finicky--doing a presentation for a customer whom I knew would never even see my slides.
"This is the worst," I told myself.  "There has got to be more to life than this."
I was turning forty.  And I was trapped.  I felt confined in my prison, and I couldn't figure out how to escape.  I wanted to be productive; I wanted to do something that mattered.
But what?  My mind continually wandered back to 1985, when I was a fifteen-year-old intern working in a winery.  That was a cool job.  You got to pick the grapes, press the grapes, ferment them, bottle them, and then serve them to the public.  At the end of the process, you held something in your hand, and it was good.  I wanted that kind of purposeful life again.
By 2009, after twenty years of government contracting, I had become a great lover of drinking.  Wineries were everywhere in Loudoun County.  What could I do that was different?  I decided to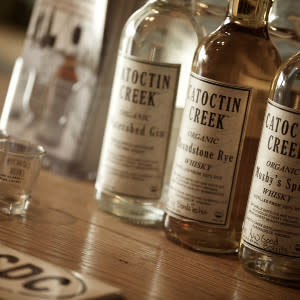 start a distillery.
I knew nothing about it at the time.  It was just a pipe dream.  But I had several things going for me:  First, my wife, Becky, and I had saved money all our careers.  We didn't come into our marriage with money, but we worked our butts off and saved every dime.  That would be important capital if we started a new venture.
Second, my wife.  Becky was my secret weapon.  Becky graduated with an honors degree in chemical engineering.  She knew about industrial processes.  She knew how to distill.  She was comfortable with mass production and quality control.  So when I brought the idea to her of starting a distillery, her reaction was a casual, "Yeah, I know how to do that."  Then she added, "But first, you gotta write a business plan."
That was my third big advantage, which I never realized was an advantage.  Twenty years in government contracting had taught me to be a very good businessman.  I could manage budgets, do project planning, manipulate spreadsheets, write large technical documents, do government proposals, and had all the tools that would be needed to get us off the ground.
And so we started.  Long story short, by July 2009, we had obtained SBA financing for a business plan solely on paper, in the worst economic market in a generation!  It was miraculous!  "God wants us to make whisky!" we told ourselves.  By January 2010, we were distilling the first legal alcohol in Loudoun County since Prohibition.
When I fast-forward to today, April 2015, I boggle at where we've come.  Catoctin Creek, which started as a two person operation in a small warehouse in north Purcellville, is now a truly international brand.  We have over twenty employees, and sell in Germany, London, Singapore, Kuala Lumpur, Hong Kong, and in the United States from Boston to Georgia, from Nashville to San Francisco.  All from our little factory on Main Street in Purcellville.
It has been quite a journey.  And to what do I attribute our success?  Prior planning and hard work.  There is no luck.  As my father always told me, you work hard, and you make your luck.  Every single day, we arise at 5:20AM and begin work at 6:00AM at the distillery.  And when the production day is done, around 4:00PM, our day is only half over.  Most nights, we then transition to "evening mode" heading off to events throughout the Washington DC area, where we promote our brand and meet our customers.  If we get into bed by midnight, that's a good night, and we start it all over again the next day.
But we love every minute of it, and I couldn't think of ever going back to that Powerpoint job.
It's a good life so far!
Want to taste a delicious cocktail six years in the making? Try a Mosby's Cucumber Collins! Make sure to visit Catoctin Creek soon to see what all of the buzz is about. You won't be disappointed!