(The following guest blog was written by Mary Callihan, Visit Loudoun's summer intern. She is entering her sophomore year at Virginia Tech, pursuing dual degrees in Marketing Management and Hospitality & Tourism Management with a minor in Leadership & Social Change. This summer, she is working with Visit Loudoun's marketing team to learn a little more about the ever-changing county in which she grew up, as well as pursue her interests in marketing, events, public relations, and writing.)
As the sun dips below the horizon and the sky dims to a soft glow, Loudoun transitions from the golden afternoon to the enchanted hours of twilight. Sprawled across blankets or lounging in a lawn chair with a glass in hand and surrounded by great company, those who have already discovered Loudoun's plethora of live music performances enjoy a little heaven on earth. Lucky for you, there are plenty of ways for you to join them this June and all summer long!
Many wineries and breweries are offering concert series this summer. If you are looking to take in the tunes with a glass in hand, check out these LoCo Ale Trail Breweries and DC's Wine Country Wineries.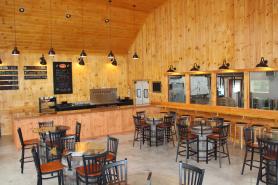 Spend the afternoon on the LoCo Ale Trail at Barnhouse Brewery for their first annual summer concert series on Saturdays at 3pm. Enjoy  a performance by Dave Minninberg June 24 while you sip one of Barnhouse's "laid back beers for laid back people". Be on the lookout for more great shows all summer long!
Tarara Summer Concert Series
Saturday evenings are the perfect time to enjoy Tarara Winery with the Tarara Summer Concert Series. This month, don't miss the 80's tribute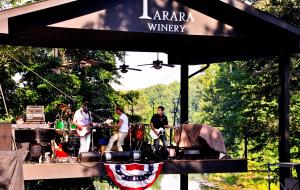 band, New Romance on June 24! Delicious food and wine and excellent music week after week keeps the crowds coming to Tarara every weekend. I know I'm looking forward to Crab Feast on July 15 and shows by Beatlemania Magic, The Reflex, and The Legwarmers later this season.
Fourth Friday at Breaux Vineyards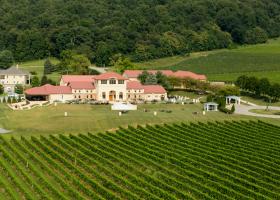 The Fourth Friday of every month is the day to head over to Breaux Vineyards. Not only can you sit back and enjoy the views of the rolling hills and blossoming vines while sipping a glass of your favorite vino, but Breaux Vineyards hosts live music too. This month, be moved by the soulful sounds of the Billy Thompson Bands' blues. Don't forget to take your picture by the painted Find Your Vine barrel!
Many other venues all over Loudoun offer the perfect place to bring a picnic and a car full of friends to listen to your favorite tunes. From the heart of Downtown Leesburg to the quaint streets of Middleburg, there is plenty of live music to enjoy this summer.
Bluemont Concert Series
On Sunday evenings this summer, a picturesque scene unfolds on the lawn of the Loudoun County Courthouse in Historic Downtown Leesburg as people gather for the Bluemont Concert Series and the town sinks into the cool evening hours. There is a diverse lineup planned this season, starting with the Martinsburg Jazz Orchestra on June 25 at 7pm. Come back for country, folk, rock, and blues acts all summer long. Make an evening of it and enjoy dinner at one of the excellent local restaurants in the Historic Downtown area before the show!
Open Late at National Sporting Library & Museum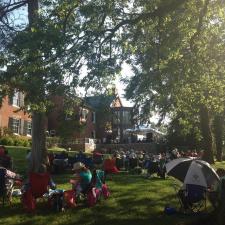 The National Sporting Library & Museum opens its doors for history lovers and music enthusiasts alike during the Open Late Concert Series. Free admission to the museum, live music by artists like Bryan Shepard on June 30, and delicious food from Hammerdown BBQ and wine from Greenhill Winery make for the perfect night in the heart of Loudoun's Hunt Country. Come back in July and August for the Silver Tones Swing Band and Piedmont Symphony Orchestra!
Acoustic on the Green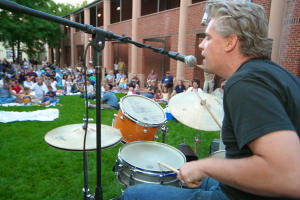 Nestled in a courtyard on West Market Street, Acoustic on the Green brings art to life as the sounds of local musicians echo off the buildings in Downtown Leesburg. Every Saturday from 7pm to 9pm throughout the summer, bring a blanket and a picnic over to the Leesburg Town Green for a fun filled evening of local music.
Summer on the Green
Summer on the Green is a free outdoor entertainment series held in the Lovettsville Town Green. Join them every Saturday for a movie or concert from June through August! Come early and explore Lovettsville's burgeoning restaurant scene before enjoying all of the entertainment. Bring a chair or blanket for a night under the stars. Movies are accompanied by free popcorn and snowcones. See you there!
Jazz it up this summer and experience Loudoun in a new way. Local musicians, great company, and a sky scattered with stars makes Loudoun's warm summer evenings even sweeter--and this is just a taste of what's out there! Be sure to check out Visit Loudoun's events calendar for everything that Loudoun has to offer this summer.