The flowers have bloomed and the sun is shining. Good weather means it's the perfect time to enjoy outdoor activities in Loudoun. Whether you love soaking in the sunshine while swinging the clubs or taking in the views while sipping on Loudoun's great craft beer and wine, there is so much to do in Loudoun to celebrate the beautiful weather! Here are just a few ideas of what you can do to get outdoors and experience adventure Loudoun.
Adventure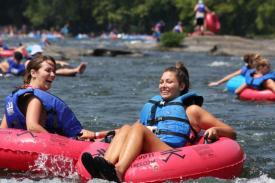 Take in Loudoun while flying through the trees at Empower Adventures Middleburg at Salamander Resort. The zip line course is comprised of a series of suspended bridges and zip lines for your thrilling pleasure. Get your feet wet at Harpers Ferry Adventure Center with whitewater rafting and tubing down the Potomac River. Make your way to Evergreen Sportsplex and put your muscles to the test on their adventure course!
Wine Tours
Imagine it. Sitting with a glass of vino in hand with friends and family while staring out at the views and vines while enjoying a beautiful day in Loudoun. With over 40 wineries ranging from expansive tasting rooms to intimate boutique experiences, there is something for everyone to enjoy. Take in the view from the beautiful new tasting room at Stone Tower Winery or get to know the family behind the vines at Zephaniah Farm Vineyard. Download our Wine Trail Guide to plan your trip.
Beer Tastings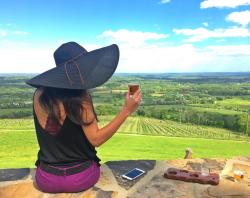 The LoCo Ale Trail encompasses Loudoun's 20+ breweries. Experience Spring in Loudoun by touring and tasting your way through the county. Enjoy brews by bike with the breweries on the Washington and Old Dominion Trail like Beltway Brewing Company, Old Ox Brewery, Crooked Run Brewing, Belly Love Brewing and more. Download the LoCo Ale Trail Pocket Guide to plan your stops to all of Loudoun's great breweries!

Walk Through History
Loudoun is full of historical stops and places that celebrate and commemorate Loudoun's past. Learn about Loudoun's part in the Civil War by stopping by Ball's Bluff Battlefield Regional Park, one of the smallest national cemeteries in the country. Morven Park was where Confederate soldiers stayed for the winter. Tour the Mt. Zion Baptist Church which acted as barrack, hospital and battleground during the war. 
Golf
Loudoun has many unique golf courses for putt-putters to professional. Practice your swing, and grab a drink or two, at TopGolf, the high-tech driving range at One Loudoun. Go pro on a small scale when you visit Dulles Golf Center & Sports Park for 18 rounds of miniature golf. Take your swing to the next level when you head over to the Golf Club at Lansdowne with 36 holes of championship golf and an additional nine hole course designed by Greg Norman!
Farms & Animals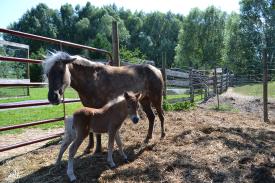 What better way to celebrate warm weather than by visiting all of Loudoun's nature attractions. Leesburg Animals Park has fun activities for the whole family including getting up close and personal with zebras, camels, llamas, pigs and more. Great Country Farms has fresh produce available for picking throughout the seasons. Visit them in May to pick their delicious strawberries or July to go cherry picking! Make your way to Temple Hall Farm Regional Park to experience what happens on a farm day to day.
Share your outdoor adventures in Loudoun with us by using #LoveLoudoun