The following guest blog was written by  Lauren De Santis of Capital Cooking.
We recently spent a rainy weekend in Loudoun County, VA.  I'll admit that I was a little disappointed when I saw the forecast, but I was pleasantly surprised that there's plenty to do, despite the rain.  As autumn moves forward, expect beautiful foliage and even more fun.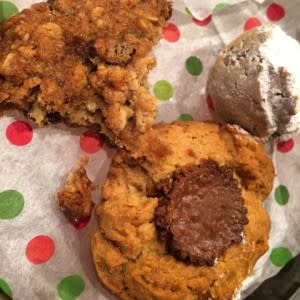 We arrived on a Friday evening after driving for an hour and change from DC.  We received a very warm welcome from our hosts, Alta and Steve, at Alta Terra Farm B&B. They made us feel at home right away. They even had toys for our baby girl. For $225/night, you get the whole lower level of the house, complete with a living room, bedroom, exercise room, and pool table. We were greeted with a bottle of wine from the neighboring Hillsborough Vineyards, a charcuterie plate and sweet treats from Mom's Apple Pie Company. There's plenty of room to spread out and enjoy.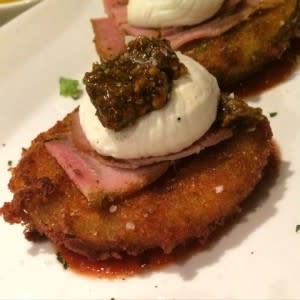 We spent the first evening dining at Magnolias at the Mill in Purcellville. We loved the fried green tomatoes topped with goat cheese and pistachios. Don't miss the shrimp and grits and smoked chicken pasta with house-made bacon and spinach.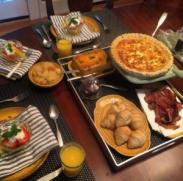 The next day we woke up to the smell of bacon.  Yum!  Alta and Steve had prepared a full breakfast complete with croissants from France, quiche from Mom's Apple Pie Company, fresh fruit and yogurt, and homemade applesauce.  Everything was delicious and it really hit the spot before a full day of activities.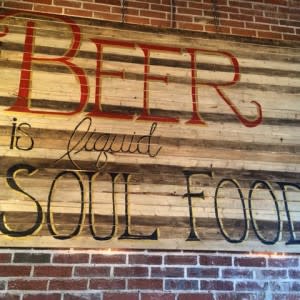 We started at Belly Love Brewing Company.  We tasted them all with my favorite being Narcissist.  Dive into a Buddha Burger with pan-seared brisket that melts in your mouth.  Put in an order of pretzels to soak down the beer.  We also loved the pork belly tacos.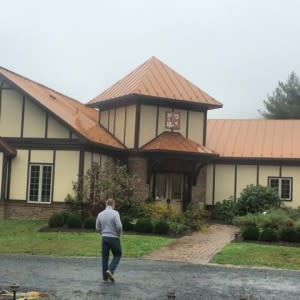 We couldn't go to Loudoun without visiting one of the 40 wineries.  We opted for North Gate Vineyard.  The solar PV system at North Gate provides 100% of the power needed to operate the winery and tasting room.  I liked the chocolate pairing option.  I always find it more fun to have a little taste of something with the wine to see how it changes the tastes and enhances the flavors.  They even had live music.
Before heading back to the hustle and bustle of DC, we stopped into Shoe's Cup & Cork in Leesburg.  This no frills, quirky spot serves up good coffee and some standard brunch items.
If you're looking for a little relaxation with good wine, beer and food, head out to Loudoun County for a wonderful weekend away.