It's that time again to pack up the backpacks and send the kids off to school, but before you go make sure to brush up on one of my favorite school subjects - history. Enjoy the last few days of summer vacation with the family by checking out some of Loudoun's historic sites and museums to get the brain flowing again. Here are just a few throughout Loudoun:
The Ball's Bluff Battlefield Regional Park preserves the site of the Battle of Ball's Bluff which occurred on October 21st, 1861 and was the largest battle in Loudoun during the Civil War. The national cemetery is also one of the smallest in the country and represents a major defeat in the war. Get a look at this national park and cemetery to learn about Loudoun's history.
Also known as Dodana Manor, The Marshall House was home to General George Marshall from 1941-1959. Marshall is the author of the Marshall plan which laid the groundwork for post WWII European recovery. The home opened to the public about ten years ago after undergoing restoration and includes a majority of original furnishings and memorabilia. Take a tour of this amazing historic home in Loudoun.
Morven Park was once home to Virginia Governor Westmoreland Davis. This beautiful historic home is visited by over 100,000 people each year. With three museums, education programs and beautiful surroundings, it's the perfect place to brush up on some Loudoun history before heading back to school. Plan your visit today!
This 360 acres scenic property features a Greek revival mansion from around 1804 including American's oldest restored propagation greenhouse from around 1810. Oatlands Historic House and Gardens offers guided tours of the mansion and is a great place to spend the day where you can bring a picnic and sit by the gardens.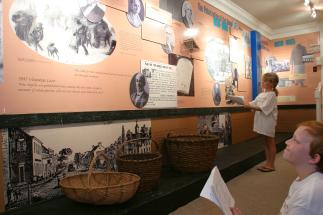 The Loudoun Museum is the perfect place to learn all about the history of the county. Located inside an old log cabin used as a silversmith shop dating back to as early as 1764, the museum collection contains archives, maps, fine art, photographs, furniture and tools, machinery, toys and more that reflect back on Loudoun's history through the years.