With over 40 wineries, Loudoun County is the perfect place to celebrate Virginia Wine Month. While I may use this holiday month as an excuse to try a different Virginia wine every night with dinner, LoCoVA wineries use it to promote their vineyards and wine by hosting fun events during the month of October. Loudoun not only has amazing wineries, but also beautiful foliage , which makes it a stunning place to celebrate all that is Virginia and wine. So, why are you still sitting at home? Get up and go to one of these great events to celebrate Virginia Wine Month and support all our great wineries!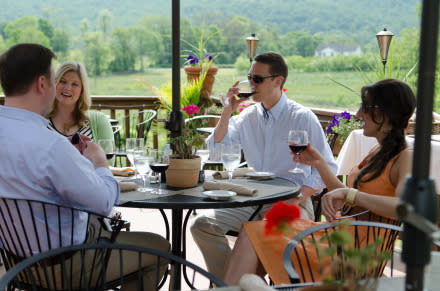 Grandale Restaurant's Virginia Wine Month Celebration (Oct 3-31): All month long, Grandale Restaurant is featuring different Virginia Wines to celebrate Virginia Wine Month. Try a flight to taste a few wines or buy a bottle of your favorite while dining on delectable farm-to-fork meals. Get excited about all that Virginia wine month has to offer and kick off the celebration with Grandale! Bogati Bodega's Virginia Wine Month Kick Off (Oct. 4): Celebrate with Bogati Bodega & Vineyard where live music will set the stage for a day filled with wine tastings and hors d'oeuvre. The winery will be open from 12 p.m.-7 p.m. Chrysalis Vineyards' Norton Wine and Bluegrass Festival (Oct. 4 &5): Join Chrysalis Vineyard for its14th annual Norton Wine and Bluegrass Festival! Listen to live bluegrass tunes as you sip on fine Norton Wine and watch…Norton Motorcycles! What a combination! Take in all of the festivities at Chrysalis to show your support and love for this honorable month. Sunset Hills Vine to Wine Harvest Tours (Oct. 5 & 12): Have you ever wondered why Cabernet Franc varietals have peppery flavors or why tasters commonly use terms like acidity, residual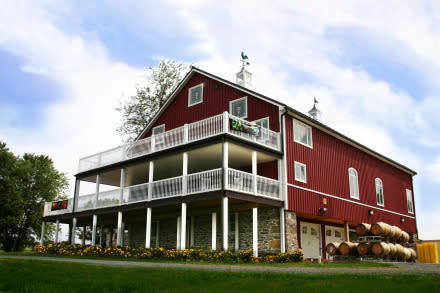 sugar and tannins? I know I have! The best way to understand what you are sensing and tasting when we indulge in fine wines is to follow a grape from VINE to WINE. Let Sunset Hills be your classroom and enjoy the day learning about delicious wine. Lost Creek Harvest Celebration (Oct 12): The Wine Kitchen and The Vineyards & Winery at Lost Creek join together to offer an elegant Harvest Celebration featuring three of Lost Creek's award winning wines paired with a savory menu from The Wine Kitchen! Start the celebration with an educational tour of Lost Creek's vineyards & winery conducted by the owner, Todd Henkle. The tour will be followed by a food & wine pairing in the Cabernet Sauvignon vineyard while enjoying the beautiful view of the lower vineyard! There are only 36 spaces available for this experience so make sure to register and get your ticket today. Doukenie Winery's Harvest Festival (Oct 18): October isn't just Virginia Wine Month, but it is also right in the middle of harvest season. Kill two birds with one stone by celebrating Virginia wine and Doukenie's harvest at its Harvest Festival featuring music from the Short Hill Mountain Boys and yummy food from Monk's BBQ while taking in the beautiful scenery that Doukenie offers!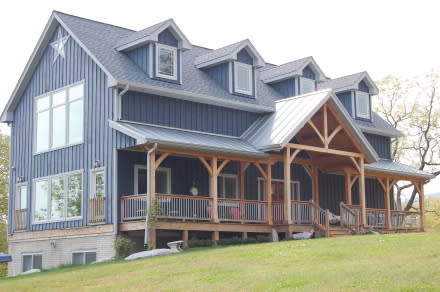 Notaviva Tune Your Palate (Oct 18): Experience the many talents of Paul Cullen while tuning your palate to wine and jazz music at Notaviva's Tune Your Palate event. Paul Cullen, a famous jazz musician and chef, will be joining Notaviva to provide Italian dishes paired with fine wine while providing guitar music for ambiance. Tickets are available on their website! The following weekend, Notaviva brings back the tunes, but this time from singer/songwriter Jayme Salviati. Let her voice captivate you while you sip on wine available by the glass or the bottle. Magnolias at the Mill October Wine Dinner (Oct. 23): Looking for a unique wine dinner that will not only expand your palate but enhance your passion for local food and wine? Search no more! Come join Sunset Hills Vineyard's winemaker, Nate Walsh, and Magnolias at the Mill's Executive Chef, Chris Carp - experts honed as they intricately weave their expertise to create an evening that will delight the senses of any food and wine enthusiast. Breaux Vineyards Virginia Wine Month Harvest Dinner (Oct 25): Come celebrate the last weekend of Virginia wine month at Breaux Vineyards for a delicious 3 course wine dinner! October is such a beautiful time of year at Breaux Vineyards, especially watching the sunset over the vines that evening! The special dinner menu consists of delicious, local Loudoun county foods prepared by executive chef Author Clark of Grandale Farms, perfectly paired with Breaux Vineyards' wines. This 3 course dinner is sure to impress your taste buds. Arrive early from 6:00pm-6:30pm to enjoy a glass of wine paired with a lovely amuse bouche and mingle around before the dinner begins. Go to one or go to all. You can never go to too many wineries or have too much wine, especially during our own Virginia Wine Month! As always, you can find all of the great events in DC's Wine Country at visitloudoun.org/events