I love the National Air and Space Museum Steven F. Udvar-Hazy Center. Its got some of the coolest planes and spacecraft on the planet (or in the galaxy). There's the Concorde, the awesomely shiny Flying Cloud, the SR-71 Blackbird (flew from LA to DC in 1 hour and 4 minutes!), and of course, the Space Shuttle Enterprise. They even have an F-14 Tomcat (think Top Gun, kids). And they're great to look at. But I find I have a hard time relating to them (except maybe the F-14, which I've seen up close, thanks to my brother-in-law Jesse who used to fly one). I find myself drawn to the more mundane artifacts: clothes. I guess its because we all wear clothes. But these are the clothes of no ordinary people. They are the uniforms of greatness.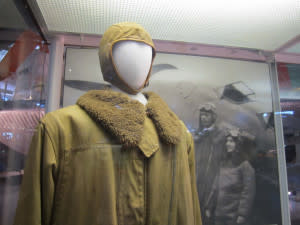 Charles Lindbergh donated his flight suit and helmet himself. This was worn on flight tours across the Atlantic and Europe in 1933. The early days of flight fascinate me. These courageous flyers testing the boundaries of human flight are epitomized in this uniform for me.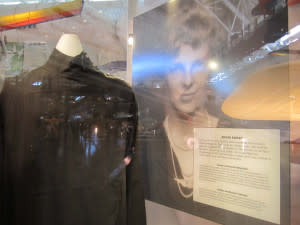 Amelia Earhart's flight jacket shows the dashing female aviator's commitment to style. As the first woman to fly across the Atlantic, she remains the most well-known woman flyer in history, even though she disappeared in 1937.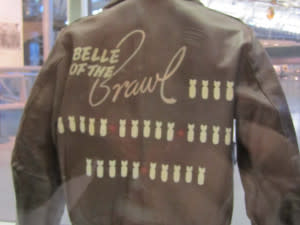 I love this World War II Army Air Corps bomber jacket. The message on the back: Belle of the Brawl. I can just see the young American pilot wearing this in the office's club recounting tales from the latest mission.
I won't lie... I have lots of favorite things at the museum. These are just a few.
And a little tip about visiting the "Hazy Center": If you go after 4pm, parking is free (as opposed to $15) which gives you 90 minutes to explore this vast collection. Just make sure you hit the observation tower first, as it closes at 4:30pm. Come fly with me!