With Memorial Day weekend traditions like parades lined with flag-waving crowds on hold this year, Loudoun businesses and non-profits are coming up with a myriad of innovative ways to pay tribute. 
Here are five ways to commemorate the holiday weekend.
1. Red's BBQ Relief, Saturday, 1-4pm 
Former marine Jason "Red" Banks, owner of Reds BBQ & Pizzeria, will park his iconic custom-built mobile BBQ pit and pizza oven Red Force One outside Gold's Gym, Ashburn Saturday afternoon to dispense free brisket, ribs and Napolitana pizza to his growing army of grateful fans. Proceedings begin at 1pm with the raising of the flag and a rousing rendition of the national anthem. Since lockdown, Banks has only requested donations from customers, and when he closes at 4pm, he will hand-deliver more food to those in need in Loudoun.  "For the last 10 weeks we've given away over 4,000 free BBQ meals," said Banks. "This week is special. Join us in honoring those fallen men and women."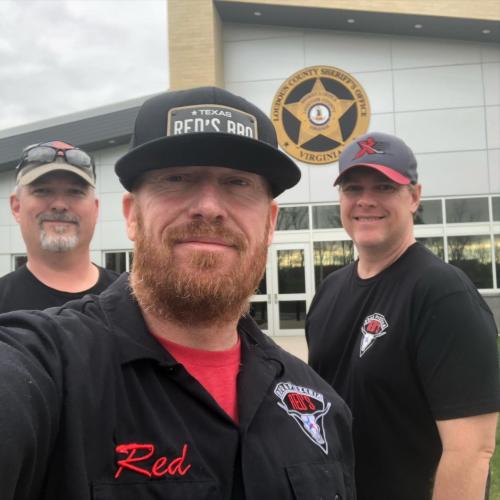 2. Kid's Flag Build Kit, Flags of Valor, Ashburn
Five years ago, combat pilots Brian Steorts and Joe Shamess founded Ashburn-based business Flags of Valor, carving and painting decorative wooden American flags to sell to patriots across the US. Forced to close shop for the COVID-19 lockdown, the company, which has an all combat veteran staff, pivoted to making wooden American flag build kits for elementary-aged kids. Costing $18.50 (with free shipping), the package includes a glue kit, display easel, wood components for 5"x 8" inch flags, and detailed instructions. "All you need are crayons, markers and a little creativity," says Mr. Steorts. "It's the perfect art project for patriotic families stuck at home." Order at www.flagsofvalor.com/collections/products/products/kids-flag-build-kit or call 703-729-8640.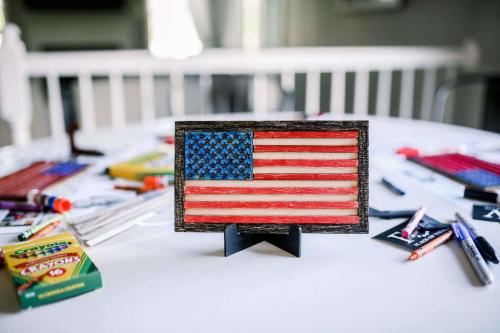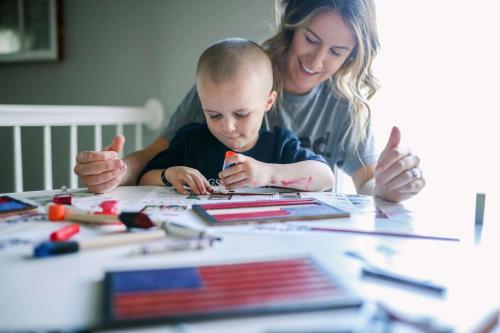 3. Middleburg Life​ Virtual Memorial Day Concert, Monday, 25th, 11am-5pm
Missing your live Loudoun music fix? Enjoy this virtual Facebook Live concert presented by Middleburg Life magazine. Between streamed performances by The Crooked Angels, Atoka String Quartet and Mark and the Bluegrass Boys, Middleburg Life's Laticia Headings and Tom Sweitzer of music therapy non-profit A Place to Be will interview prominent Loudoun personalities. Don't miss talented Blythe Condon's national anthem opener.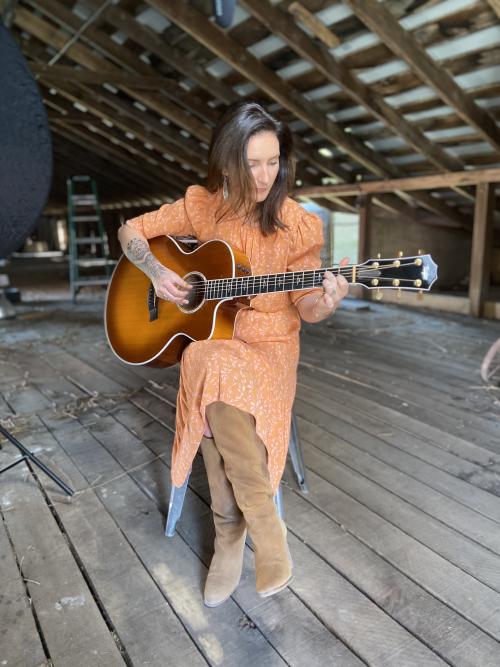 4. AR Workshop Loudoun, DIY To-Go Kits 
Memorial Day signifies patriotism – and the start of summer. The popular AR Workshop space in The Village at Leesburg pivoted during lockdown to make DIY Topple Towers, Cornhole kits and other garden games for the whole family. The Cornhole kit costs $179 and you get to assemble, stencil and paint it at home with your own pattern, including Stars and Stripes. Topple Tower ($129) is a large version of Jenga, with 48 pieces inscribed with different sayings and instructions such as "Sing a Song," or "Selfie". They also sell DIY Yard Dice and Summer Art Box kits for extra creative kids. Visit www.arworkshop.com/loudoun or call 571 223 4436 to order.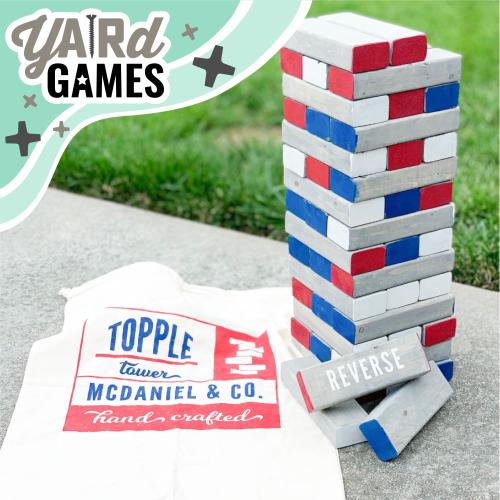 5. Stone Tower Memorial Day BBQ & Wine Pairing
What is Memorial Day weekend without grilled meats? Stone Tower Winery is offering a decadent Full BBQ Experience package, available for pick-up. Costing $164.70 and enough to feed at least four, it includes pulled pork shoulder, beef brisket, smoked gouda mac & cheese, bottles of the 2016 Sanglier Noble and 2016 Cabernet Sauvignon, and – the clincher – a BBQ Pairings Tasting Kit, which consists of smaller bottles of Rose, Cab Franc and Cab Sauvignon. Over in Purcellville, the Purcellville Pub's Memorial Day Freedom Feast Family Meal is available for pre-order. The $65 meal includes 10 hot dogs, two pounds of Old Bay shrimp, chicken wings, Hush puppies, two 16oz Bud Light drafts and a pack of sparklers. Call 540-441-3013 to order. 
Happy Memorial Day!