If you're thinking "Irish it were the weekend…" we feel you! Trust us, we're already channeling the luck o' the LoCo 🍀🌈🍯 
Check out all the events we've got this St. Patrick's Day weekend, and you'll see it's easy being green!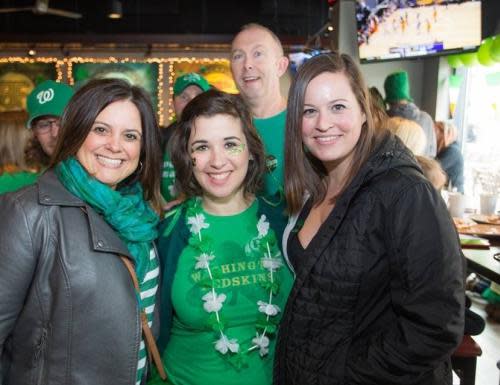 Leprechan't Wait to Celebrate 🍀 
Join Blackfinn Ameripub at Loudoun Station for Loudoun County's largest outdoor St. Patrick's Day shindig: the 2nd Annual Shamrock & Roll Block Party! The day includes live music, a DJ, Irish performances and tasty Irish cocktails + food! Come as early as 11 AM, and stay into the early hours of the holiday itself 💚🍻✨ 
Lost Rhino Brewing Company is hosting its third annual St. Patrick's Day Party! Come out and enjoy live music and swag giveaways as you celebrate the release of Shooter McMunn's Irish Stout, a 2018 Great American Beer Festival Gold Medal Winner in the Classic Irish-Style Dry Stout category. Taps open at 7:30 AM in time for Kegs & Eggs, featuring local coffee and festive breakfast foods like Irish breakfast burritos, corned beef sandwiches, and Shooter McMunn's Irish Stout ice cream floats.
Shamrock your world at MacDowell's "Blarney Bash"! ☘️ The party features a double billing on stage with a lucky pair of great bands, green beer flowing inside and campfires burning outside 🔥 St Paddy's-themed drink specials will be plentiful, so that your mug stays ever full — Sláinte!
The Black Olive is turning GREEN for St. Paddy's Day! Embrace your inner Irish with house-cured corned beef sandwiches, drink specials, music and more. If you're really feeling lucky, you could even win St. Paddy's prizes!
The businesses of Market Station are getting together on March 16th to throw a St. Patrick's day block party! Enjoy Irish food from Tuscarora Mill Restaurant, live music in the courtyard, great cider from Wild Hare Hard Cider, great beer from Crooked Run Brewing, and cold brew coffee and kombucha on tap from For Goodness Sake Natural Foods! Charity raffles every hour will get you in the holiday spirit.
There's a whole lot planned to celebrate St. Patty's Day at Bear Chase all weekend long! The brewery will release a Nitro Dry Irish Stout, some of which is aging in barrels from Catoctin Creek Distillery. With doors opening at 8AM on Saturday, you can start the holiday right with a Happy Crepe breakfast, then sway to Irish-style bands. Come back Sunday to celebrate St. Patty's Day all day long!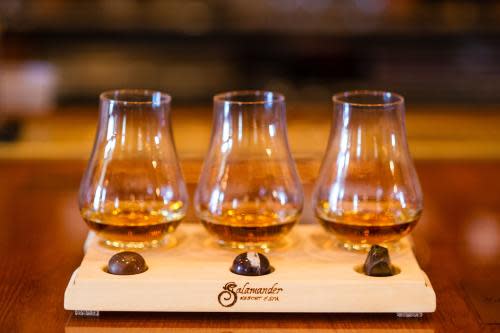 A Celtic Evening ✨
Great craft beer? Amazing curated food? Incredible live music? Yes, please! Join us at The Manor for a Pop-up St. Patrick's Day Dinner. Zesty Gourmet will be presenting an Irish-inspired multi-course dinner with pairings by Bear Chase Brewery, including a beer-braised beef with the brewery's special St. Patrick's Day beer. Come out for a night of beer, live music, food and fun.
Gold Cup Wine Bar is serving up a special menu all weekend long in honor of St. Patrick's Day that will delight the Irish in all of us! Listen to an authentic Irish band each day starting at 2:00 PM. while indulging in traditional Irish fare including corned beef and cabbage, bangers and mash, turkey rubens and much more. Try the new whiskey menu and enjoy the green beer flowing. Plus, take 25% off your food bill when you wear green on March 17! 
Make reservations at Harrimans Virginia Piedmont Grill for a special Whiskey pairing dinner with select signature dishes. The executive chef will be on hand preparing and explaining how he creates each dish while you enjoy each with Tullamore DEW, Bushmills Black Bush, and a flight of Jameson Original, Jameson Caskmates and Jameson Black Barrel.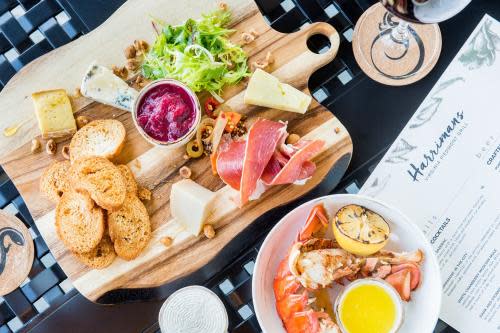 On Emerald Island Time 💚
For more of a low-key celebration, head to Harrimans at the top o' the mornin' to feast on not only classic brunch offerings like an omelet station, but also authentic Irish specialties like corned beef, cabbage, Irish desserts, and more to celebrate a delicious St. Patrick's Day. 
Who says yoga can't rock? Come have a relaxing resort-style blast at Salamander in honor of St. Patrick's Day. Stretching and building muscle in this Vinyasa Yoga workshop, set to a soundtrack of upbeat hard rock hits. Reward yourself with a complimentary green beer after class!
Not super into green beer? How about some Irish cheer and Virginia wine at Bogati this year? This St. Patty's Day, visit Bogati Winery and enjoy glasses of wine for $5 all day long! Plus, the winery will even have Irish dancers performing from 2 - 3 PM in the tasting room to help immerse you in Irish culture.
Franklin Park Arts Center will be filled with pan-Celtic music as the OCEAN Celtic Quartet applies their unique spin on traditional songs and original compositions, from soaring ballads and stirring sea chanteys to blazing fiddle and accordion tunes. Let the music take you away so you feel like you're on the Emerald Isle itself! 
Other Ways to #LoveLoudoun This Weekend:
Onyx Linear Tasting - March 16 at Hillsborough Winery, Brewery & Vineyard
A Taste of Courtland - March 16 at The Manor at Courtland Farm 
St. Patrick's Day Weekend at the Market - March 16 + 17 at Market Salamander
St Patty's Comedy Showcase - March 15 at MacDowell's Brew Kitchen
Last Ham Standing Comedy Improv - March 15 at Franklin Park Performing & Visual Arts Center
Trellis Vertical Tasting - March 16 at Boxwood Estate Winery
Moonshine Murders Dinner Theatre - March 16 at StageCoach Theatre Company
Comedy Show - March 16 at Old Ox Brewery
Fantastic Friday - March 15 at Winery 32