After a long holiday weekend, it's always hard coming back to work. I know that I've been counting down the days until the weekend and, thank goodness, it is finally here! Loudoun is ready for you all looking to have a good time with great events like the Great Grapes festival, 7th Annual Polo Classic or Fall Tasting Series! Find out more about these and all of the other events in LoCo this weekend:
Great Grapes!
Great Grapes! Wine & Food Festival has grown to be Virginia's premier casual wine festival with hundreds of wines available. The show has seen hundreds of thousands of happy guests over the years. Head over to the Village at Leesburg this Saturday to get your souvenir tasting glass and stroll from tent to tent tasting and sampling the rich heritage of Virginia wines.
7th Annual Polo Classic
The National Sporting Library & Museum's 7th Annual Polo Classic is being held this Sunday, September 10 at Great Meadows. This classy and memorable event has got it all...world-class polo play, exquisite dining and libations, and plenty of festivities. Notable polo players promise to deliver exciting competition! Check out the website for more details. 
Fall Tasting Series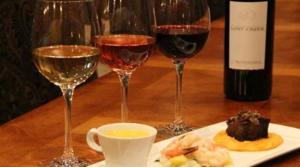 Join The Vineyards & Winery at Lost Creek this weekend for their "For the Love of Wine" tasting series which features an array of wine tastings throughout the year led by Neal Wavra of Fable Hospitality. For their first installment of the series, Neal will walk you through a range of red and white wines that will pair perfectly through Autumn as the leaves change and the weather cools.
As always, check out our events calendar to find everything that is going on in Loudoun and the community. Here are some other great events for you to enjoy this weekend:
The Horse & The Camera: National Sporting Library & Museum - Until January 7
The Horse in Ancient Greek Art: National Sporting Library & Museum - Until January 14
Leesburg Brew Crawl - All Weekend
Back the Red, White & Blue: Bluemont Vineyard - All Weekend Long
Live Music Fridays: Blend Coffee Bar - September 8
Open Mic Night: Jack's Run Brewing Company - September 8
Bistro Nights: Doukenie Winery - September 8
Bluemont Fall Fest - September 9
Exit Stage Death: O'Faolain's Restaurant & Pub - September 9
Fall Native Plant Sale: Morven Park - September 9
Live Music: North Gate Vineyard - September 9
2017 Music Series: Barnhouse Brewery - September 9
Live Music: 868 Estate Vineyards - September 9
Summer Concert Series: Tarara Winery - September 9
Quilting Afternoon Tea: Oatlands Historic House & Gardens - September 10
Vineyard Tour: Hillsborough Vineyards - September 10
Hangover Brunch: Lost Rhino Retreat - September 10
Live Music: 868 Estate Vineyards - September 10