I've said it before and I'll say it again, Loudoun County really does offer some amazing attractions and events for people of all ages! Whether it be a family-friendly festival with local musicians, food, beer, and wine, or an informative and educational fermentation tour of one of the oldest vineyards in the county- we really do have it all! Not only do we have it all, but we #LoveLoudoun and we love to see how you #LoveLoudoun too!! Share your pictures with us and be sure to use our hashtag! Have a wonderful fall weekend!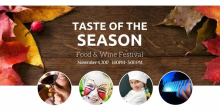 The Taste of the Season Food & Wine Festival: You will certainly be engulfed in the spirit of the season as you join Executive Chef Todd Goldian on his holiday food tasting journey at the National Conference Center! This event boasts tons of fun for the entire family, with live music, face painting, a Junior Iron Chef Competition (ages 6-16), fall games, delightful food tastings, and incredible wine/beer/liquor tastings! Learn how to pair food and wine perfectly with Chef Todd Goldian and a Wine Chief Officer.
Bratwurst, BBQ & Mulled Wine Fall Festival: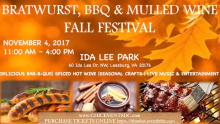 What a perfect time of year to enjoy apple cider, delicious food, music, art, mulled wine and much more at Ida Lee Park! Numerous local food vendors will be present and you'll have a chance to get some early holiday shopping done at the participating arts and crafts vendors! Plenty of activities available for children too! If that doesn't already sound GREAT- let's make it a bit better. Part of the proceeds from ticket sales will be donated to "United for Puerto Rico" to help support those affected by Hurricane Irma and Maria. Have fun and know you are supporting a great cause!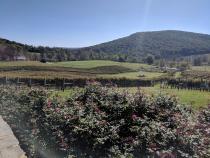 Fermentation Tour at Hillsborough Vineyards: Have you ever wondered what goes on behind the scenes at a winery?! Exactly how much hard work goes into making each bottle of wine? Well, now is your chance to see for yourself! Karem Baki, Hillsborough's winemaker, will guide you through the cellars and teach you what's happening behind the scenes while the grapes "sleep" in the barrels and tanks. He'll also walk you through the process of harvesting and pressing!
Ticonderoga Farms Fall Festival - through November 5, 2017
Pumpkin Village Fall Fest - through November 7, 2017
Temple Hall Corn Maize and Fall Festival - through November 7, 2017
The Horse and the Camera- through January 7, 2018
The Horse in Ancient Greek Art - through January 14, 2018
To view more events in your area, click here.