It's Memorial Day weekend and we hope you get to celebrate with your friends and family (and hopefully have Monday off to recover). Since everyone celebrates Memorial Day in different ways, we wanted to focus on events that include something everyone enjoys...food. Celebrate Memorial Day in Loudoun this weekend at some of our fun culinary events! Don't forget to capture your time in Loudoun and tag #LoveLoudoun!
One Friday each month, Salamander Resort and Spa is featuring live music, delicious wine and culinary delights from visiting chefs. For May, enjoy jazz music while you dine and wine in their culinary garden.
Visit Willowcroft Farm Vineyards this Saturday for a very unique culinary competition. There will be plenty of restored Model A's on the vineyard and the competitive chefs will be showing their cooking expertise on the manifold of the car!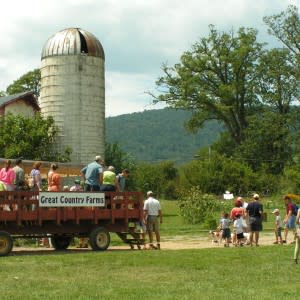 Join Great Country Farms for the largest u-pick strawberry festival in Northern Virginia! Enjoy live music, farm contest, and , of course, delicious strawberries! Participate in the Pie Eating Contest or Tart toss and don't miss out on the diaper Derby where babies will crawl to the finish line for great prizes! This festival is packed with family fun!
There are always many events going on in LoCoVA so make sure to check our events calendar. Here are the other events going on this weekend:
Brambleton Farmers Market: May 3-November 1
Fourth Friday: Breaux Vineyards - May 22
Friday Night Live: Bogati Bodega Farm Winery - May 22
Sunset Jumpers: Fox Chase Farm - May 22
Live Music by Eric Chandler: North Gate Vineyard - May 23
Book Signing by Zachary Tamer: North Gate Vineyard - May 23
56th Annual Hunt Country Stable Tour - May 23 & 24
Birding the Blue Ridge - May 23
Smithsonian TechQuest Game: Eye in the Sky: Udvar Hazy Center - May 23
Memorial Day Celebration: Bogati Bodega Farm Winery - May 23
Annual Picnic Contest: Willowcroft Farm Vineyards - May 24
Live Music by Moon Music: North Gate Vineyards - May 24
Paella by Carlos: North Gate Vineyards - May 24
Memorial Day BBQ: Dry Mill Vineyards & Winery - May 25
Memorial Day BBQ: Salamander Resort & Spa - May 25