And just like that another month has come to an end. Where did June even go? Make sure to bring the month to an end with a bang by having a great weekend in Loudoun. As always, there are many great events for you to enjoy before you celebrate the holiday. Travel back in time with a concert in Lovettsville with The Reagan Years, enjoy watching Polo in the Park at Morven Park and get in touch with your creative side at National Sporting Library & Museum. Find out more about these events and more below:
Lovettsville Summer Concert Series
Summer on the Green is Lovettsville's summer series featuring free concerts and movies for the family to enjoy. This weekend, the Lovettsville Oktoberfest presents The Reagan Years on the Town Green. Bring a blanket or lawn chairs and grab a seat for this exciting concert that takes you back to the 198-s with hits from Bon Jovi, Madonna, Def Leppard, Duran Duran, Billy Idol, Journey and so much more. Make sure to bring your appetite too as there will be food, beer and wine for sale too! See you there Saturday night.
Polo in the Park
Morven Park has launched its inaugural season of Polo in the Park this summer at their International Equestrian Center. Spectators are encouraged to bring picnic baskets and blankets onto the terraced viewing area next to the riding arena, and a DJ will provide dance music in the pavilion tent immediately following the final polo matches throughout the summer. Stone Tower Winery – the Official Wine Sponsor of Polo in the Park – will offer wine for sale by the glass or by the bottle. Get your passes online now!
Sunday Sketch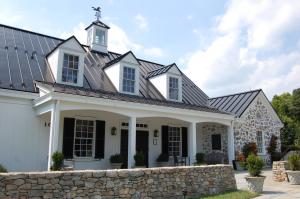 Channel your inner artist with National Sporting Library & Museum this weekend for their Sunday Sketch series. Each Sunday, they host a free sketching session in the museum gallery. Supplies are provided for you and all you have to bring is your creativity. This week's featured artist is local artist Gail Guirreri-Maslyk who uses unexpected color and energetic brush strokes to create artwork that jumps off the canvas.After your sketch your art, head to the museum with free admission to admire all of the other beautiful artwork too!
As always, check out our events calendar to find everything that is going on in Loudoun and the community. Here are some other great events for you to enjoy this weekend:
Andre Pater Exhibit: National Sporting Library & Museum - Until August 13
Moo Thru Ice Cream: Hillsboro Old Stone School - All Weekend
Open Late Concert Series: National Sporting Library & Museum - June 30
Bistro Nights: Doukenie Winery - June 30
Farm to Table Friday: Bluemont Vineyard - June 30
Campfire Saturday: 868 Estate Vineyards - July 1
Middleburg's Independence Day Celebration - July 1
Red, White & Tango Blue Discount: Bogati Winery - July 1
Live Music: North Gate Vineyard - July 1
You Can't Take It With You - July 1
2017 Music Series: Barnhouse Brewery - July 1
Acoustic on the Green - July 1
Live Music: 868 Estate Vineyards - July 1
Summer Concert Series - July 1
Bluemont Concert Series - July 2
Live Music: North Gate Vineyard - July 2
Hangover Brunch: Lost Rhino Retreat - July 2
Live Music: 868 Estate Vineyards - July 2