"There is no love sincerer than the love of food" - George Bernard Shaw
Those are my words to live by. I live in a constant state of "hangry" and food is the only cure. As I sit here having just finished my breakfast and already thinking about lunch, I'm realizing how many delicious events are happening in LoCo this weekend! From buying fresh local products, to learning to cook them yourself or just indulging in a delicious meal at a restaurant, there is something for every food junkie. Share your food with us by using #LoveLoudoun
Brambleton hosts a producer-only market from May through November at the Brambleton Town Center every summer featuring local fruits, vegetables, grass-fed meats, wine, honey, salsa, baked goods and more! It's the perfect place to pick up fresh, local and in-season products.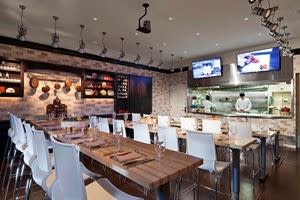 Salamander Resort & Spa is hosting Guest Chef Jamie Leeds as well as their Chef de Cuisine Chris Edwards for a cooking class at the resort. Learn and share the passion for oysters with the chefs by learning how to open, cook and eat oysters in a variety of ways from grilling to baking. Enjoy the instruction and of course the delicious food and you can show off at your next barbecue!
Join The Restaurant at Patowmack Farm for a delicious "Sea to Table" dinner to meet some of the fishermen they work with to tell you the story start to finish of where to food comes from as well as the story from the chefs on how they prepare the freshly caught seafood. Don't miss out on this unique experience!
There are many other events going on in Loudoun this weekend. Always check our events calendar for the most up to date information:
Art A La Carte w/ Mary Jennings: Salamander Resort & Spa – May 30-September 5
Summer Expressions: Arts in the Village Gallery – Month of June
Friday Night Live: Bogati Bodega Farm Winery – June 26
Culinary Garden Summer Music Series: Salamander Resort & Spa - June 26
Fourth Friday: Breaux Vineyards - June 26
Smithsonian TechQuest Game: Eye in the Sky: Udvar-Hazy Center - June 27
Live Music: 868 Estate Vineyards - June 27 & 28
Live Music with Ken Wenzel: North Gate Vineyards - June 27
Red, White and Bram - June 27
Birding the Blue Ridge Center - June 27
Artist Reception Collective Color: 868 Estate Vineyards - June 27
Wine & Music Pairing: Notaviva Vineyards - June 27
Summer Concert Series: Max Impact: Udvar-Hazy Center - June 28
Brick Oven Pizza: Willowcroft Farm Vineyards - June 28
Bluemont Concert Series - June 28