Happy Father's Day Weekend! I am a daddy's girl and I can't wait to celebrate with my dad this weekend. We normally spend it going out to eat, getting goofy gifts and letting him pick what he wants to watch on TV that night and since he is the only guy in the house that's a real treat. This year, however, we might try something new. There are so many Father's Day events going on in Loudoun this weekend whether it's at a winery or in the water. Share your memories with us by using #LoveLoudoun
Celebrate with Fabbioli Cellars by indulging in some delicious wood fired pizza which will be made on site. Make sure to pair your favorite pizza with the perfect glass of Fabbioli Wine. There's even a pizza and wine guide on our Pinterest for you to check out before you go!
Salamander Resort & Spa wants you to hang out with your dad while learning the techniques of casting and catching for fly fishing. Go out on the local water and learn it all from start to finish. Learning something new is a great way to bond with dad this weekend and don't forget what happens on the water stays on the water. Make sure to make reservations for this awesome weekend activity.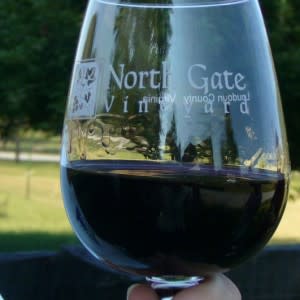 North Gate Vineyards invites all dads to their vineyard this Sunday for some oyster shucking with two different varieties of fresh raw Chesapeake Bay Oysters. Don't forget to enjoy some live music and a delicious glass of vino while you enjoy some oysters! The shells of the oysters are donated to Shucking Around who reseeds the shells with baby oysters and returned to the bay.
No matter what how you spend your weekend, spending it with your dad will make it memorable and fun for the whole family. Don't forget to check our events calendar for all of the exciting thing going on in #LoCoVA. Here are some other great events this weekend:
Brambleton Farmers Market - May 3 - November 1
Art A La Carte w/ Mary Jennings: Salamander Resort & Spa - May 30-September 5
Summer Expressions: Arts in the Village Gallery - Month of June
Friday Night Live: Bogati Bodega Farm Winery - June 19
Tasting Night at Grandale Restaurant - June 19
Nathaniel Davis Live Music - North Gate Vineyard - June 20
Live Music: 868 Estate Vineyards - June 20 & 21
Ballroom Dance Class: Salamander Resort & Spa: June 20
10th Annual Western Loudoun Artists Studio Tour - June 20 & 21
VHSA Associate Jumper Show: Fox Chase Farm - June 20
Lobster Dinner: Willowcroft Farm Vineyards - June 20
Live Music w/ Mike Ryan: Notaviva Vineyards - June 20
Book Signing with Richard Leahy: Breaux Vineyards - June 20
Summer Concert Series and Fundraiser: Tarara Winery - June 20
A Groovy Kind of Love 1960s Cabaret - June 21
Beer, Bacon and Pig: 868 Estate Vineyards - June 21
LaBarge BBQ at Willowcroft Farm Vineyards - June 21
Dad Magnets: Salamander Resort & Spa - June 21
VHSA Hunter Horse Shows: Fox Chase Farm - June 21