Extra! Extra! Read all about it! There is tons to do in Loudoun this weekend! This edition of our weekend guide is packed with great events for you to enjoy with friends and family. If you want to laugh until you cry, get a taste of all Loudoun products, or stuff your face with crabs and wine, then Loudoun is the place for. Find out what you can do here:
My Funny Valentine
Kalero Vineyards, one of Loudoun's newest wedding and event facilities, is bringing comedian Jason Weems back to Loudoun! Get ready to laugh until you cry while Jason performs a 90 minute comedy show which includes two opening acts. Get there early to enjoy some Notaviva Vineyards wine!
Purcellville Wine & Food Festival
The annual-winning festival is back for their sixth year at Fireman's Field. Bring the whole family and enjoy the beautiful outdoors while you get a little taste of Loudoun with wineries, breweries, local restaurants and more in attendance. Grab a seat by the main stage to enjoy music all day long, grab your partner and sign up for the cornhole tournament or take the kids to get their faces painted and get active on the moon bounce. Tickets are available online and at the door.
1st Annual Crab Feast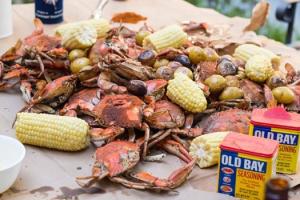 Get your crab on at Tarara Winery this weekend for their first annual crab feast! This all-you-can-eat feast is a can't miss with seafood from JB Seafood, LoCo Ale Trail brews from Old Ox Brewery, Tarara Winery wine (of course), live music, lawn games and so much more. Make it a party all night long and stay after for their Summer Concert Series with Beatle-Mania. Reservations are required so grab yours now!
As always, check out our event calendar for all that is going on in Loudoun. Here are some other great events happening this weekend:
Bold and Beautiful: Arts in the Village Gallery - Until July 31
Andre Pater Exhibit: National Sporting Library & Museum - Until August 13
Leesburg Brew Crawl - All Weekend
Moo Thru Ice Cream: Hillsboro Old Stone School - All Weekend
Hops & Pearls: Grandale Vintner's Table - All Weekend
Coffee with the Curator: National Sporting Library & Museum - All Weekend
From the Front Lines to the Home Front: Oatlands Historic House & Gardens - All Weekend
Live Music: Blend Coffee Bar - July 14
Bistro Nights: Doukenie Winery - July 14
Farm to Table Fridays: Bluemont Vineyard - July 14
Live Music: Jack's Run Brewing Company - July 15
Live Music: North Gate Vineyard - July 15
Summer Concert Series: Tarara Winery - July 15
My Favorite Sings Storybook Cabaret: Cascades Library - July 15
Twilight Jazz: 868 Estate Vineyards - July 15
2017 Music Series: Barnhouse Brewery - July 15
Acoustic on the Green - July 15
Live Music: 868 Estate Vineyards - July 15
Polo in the Park: Morven Park - July 15
Bluemont Summer Concert - July 16
Live Music: North Gate Vineyard - July 16
My Favorite Sings Storybook Cabaret: Sterling Library - July 16
Hangover Brunch: Lost Rhino Retreat - July 16
Live Music: 868 Estate Vineyards - July 16