Summer has been flying by and I can't believe that it is already August. As I enjoy this beautiful day, I am looking forward to enjoying all that Loudoun has to offer this weekend. Celebrate farm fresh produce at Bluemont Vineyards' 3rd Annual Peach Fuzztival, stuff your face with seafood at the 5th Annual Crab & Wine Feast or dance the night away at Tarara's Summer Concert Series.
3rd Annual Peach Fuzztival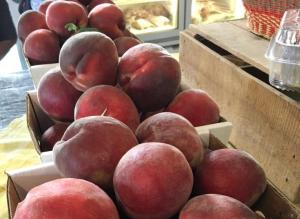 Celebrate peach-picking season at Bluemont Vineyard, Great Country Farms and Dirt Farm Brewing all weekend long. Bluemont Vineyard will be featuring farm-to-table bites while guests sip on delicious vino, peach wine slushies and live music. Head over to Great Country Farms with the family for a peach pancake breakfast and a peach pie eating contest or grab a Some Peach Ale at Dirt Farm Brewing.
5th Annual Crab & Wine Feast
In it's 5th year, the annual Crab & Wine Feast at The Vineyards and Winery at Lost Creek is as popular as ever. This all-you-can-eat event will feature crabs, baked potatoes, corn on the cob, local pies and so much more all paired with wine from Lost Creek and music in the background. Get your tickets now before they sell out!
Tarara Summer Concert Series
It's back! Tarara Winery's Summer Concert Series begins this Saturday. Pack a picnic, get your favorite bottle of wine and make sure to get a spot close to the stage so you can enjoy the music! Check out the full schedule to find out when your favorite tunes are playing from the hits of the 70's and 80's to tributes to Dave Matthews, Prince, The Beatles, Journey, Eagles, David Bowie, Bruce Springsteen and more! 
As always, check out our events calendar to find everything that is going on in Loudoun and the community. Here are some other great events for you to enjoy this weekend:
Andre Pater Exhibit: National Sporting & Library Museum - Until August 13
Skeleton Camp: Waterford Old School - All Weekend Long
Leesburg Brew Crawl - All Weekend Long
Moo Thru Ice Cream: Hillsboro Old Stone School - All Weekend Long
Live Music: North Gate Vineyard - August 4
TGIF: North Gate Vineyard - August 4
Bistro Nights: Doukenie Winery - August 4
Farm to Table Fridays: Bluemont Vineyard - August 4
First Friday: Bogati Winery - August 4
Bluemont Summer Fest - August 5
Campfire Saturday: 868 Estate Vineyards - August 5
Live Music: North Gate Vineyard - August 5
Live Music: Jack's Run Brewing Company - August 5
2017 Music Series: Barnhouse Brewery - August 5
Acoustic on the Green - August 5
Live Music: 868 Estate Vineyards - August 5
Polo in the Park: Morven Park - August 5
Crepes & Wine: North Gate Vineyard - August 6
Live Music: North Gate Vineyard - August 6
Sunday Sketch: National Sporting Library & Museum - August 6
Hangover Brunch: Lost Rhino Retreat - August 6
Live Music: 868 Estate Vineyards - August 6