It's another Friday in Loudoun and that means that the latest edition of Loudoun's Weekend Guide has hit in your timelines! This time, we are focusing on the arts in Loudoun. You can enjoy a new exhibit at the National Sporting Library and Museum, check out the artisan fair at One Loudoun or put your skills to the test during a paint and sip at Breaux Vineyards.
The Horse and the Camera
The National Sporting Library & Museum in Middleburg constantly brings in new exhibits for their guests to enjoy throughout the year. For the Fall, they have brought The Horse and the Camera photography exhibit from Judith and Jo Tartt, Jr featuring photos from 1870 to 1960. Get your tickets online or at the door.
Artisan Fair
Each and every Saturday morning, One Loudoun is the place to be. Their Artisan Fair and Craft Market features locally-created products from a variety of artists and artisans. After an early morning of shopping, make sure to stop in to one of One Loudoun's many restaurants for a great brunch like B Loudoun, World of Beer, Aggio and more!
Paint & Sip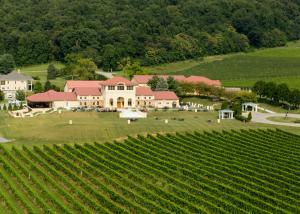 Spend a lovely afternoon with Breaux Vineyards for a paint class! No experience is required; only the courage to try your hand at becoming an artist! Breaux has paired with Creative Mankind, a local paint company, for a fun day of painting, wine and good company. Reserve your spot today!
As always, check out our events calendar to find everything that is going on in Loudoun and the community. Here are some other great events for you to enjoy this weekend:
Andre Pater Exhibit: National Sporting & Library Museum - Until August 13
Leesburg Brew Crawl - All Weekend Long
Moo Thru Ice Cream: Hillsboro Old Stone School - All Weekend Long
Teacher Weekend: 868 Estate Vineyards - All Weekend Long
Live Music Fridays: Blend Coffee Bar - August 11
Open Mic Night: Jack's Run Brewing Company - August 11
Deck-Ade Party Series: The Wine Reserve at Waterford - August 11
Bistro Nights: Doukenie Winery - August 11
Farm to Table: Bluemont Vineyard - August 11
6th Annual BBQ & Bluegrass: Breaux Vineyards - August 12
Boat & Wine: Creek's Edge Winery - August 12
Coffee with the Curator: National Sporting Library & Museum - August 12
Kendra Scott Trunk Show: 868 Estate Vineyards - August 12
Live Music: North Gate Vineyard - August 12
Live Music: Jack's Run Brewing Company- August 12
2017 Music Series: Barnhouse Brewery - August 12
Acoustic on the Green - August 12
Brats on the Patio: South Street Under - August 12
Live Music: 868 Estate Vineyards - August 12
Polo in the Park: Morven Park - August 12
Summer Concert Series: Tarara Winery - August 12
Hangover Brunch: Lost Rhino Retreat - August 13
Live Music: 868 Estate Vineyard - August 13